Apple executives announced a slew of new features scheduled to be included in the next generation of Apple software. But at the Worldwide Developers Conference in San Francisco, the focus was on tools for those developers and updates to the Apple software aesthetic.
As part of the proceedings, CEO Tim Cook and Craig Federighi, senior vice president of software engineering, used 13 charts to tout their company. It's best to take these graphics with something of a grain of salt, as they're marketing materials. (Apple's not above putting the best possible spin on its numbers in its graphics.) But they're still of interest to the Apple faithful, so here they are.
The first chart laid out growth of Mac computers compared to the industry from 2013 to 2014.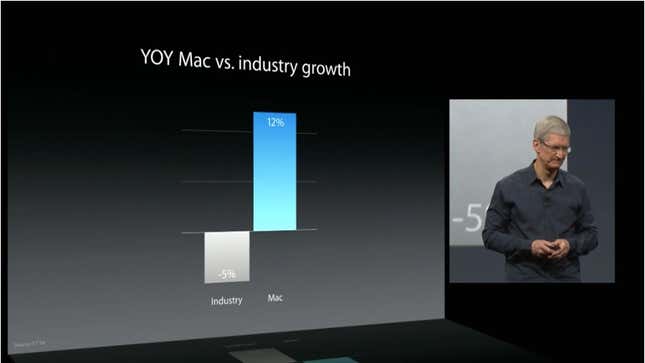 Another chart compared user adoption of OS X Mavericks, the most recent iteration of the OS X operating system, with user adoption of Windows 8. This comparison is not as straight forward as Apple makes it seem. Mavericks was a free upgrade to an existing operating system.
On the other hand, Windows 8, launched in October 2012, was an entirely new operating system that costs $120 for the standard edition. As such, it is unclear what base number Apple is using to arrive at a 14% adoption rate for Windows 8. (We've sent Apple a request for clarification.)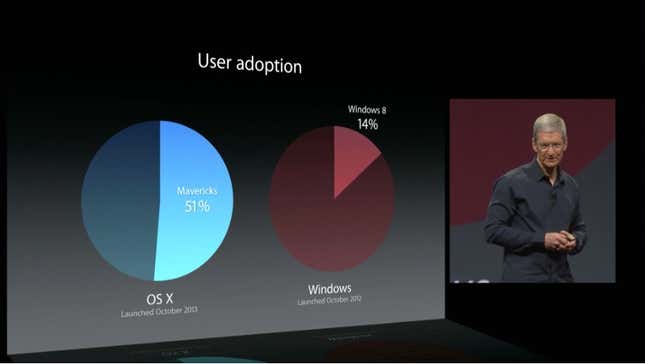 Federighi showed a number of charts highlighting the performance of Apple's web browser, Safari, compared to Google's Chrome and Mozilla's Firefox.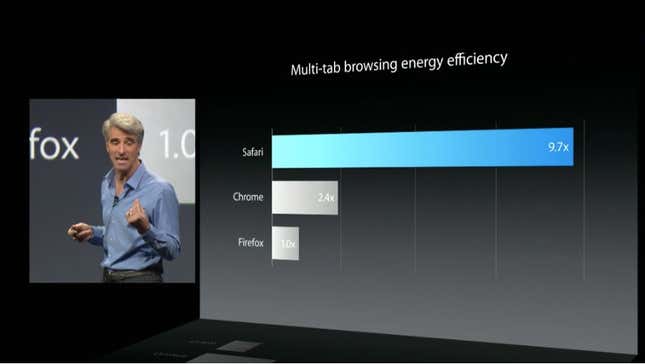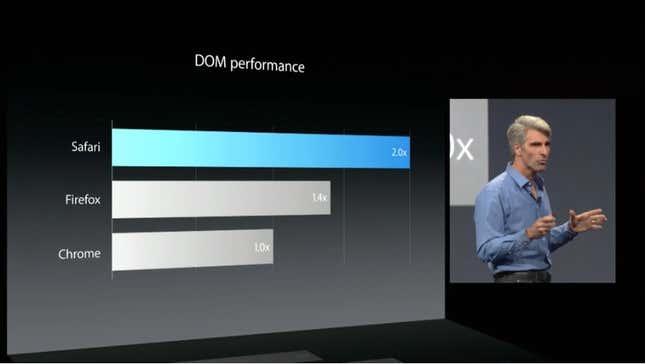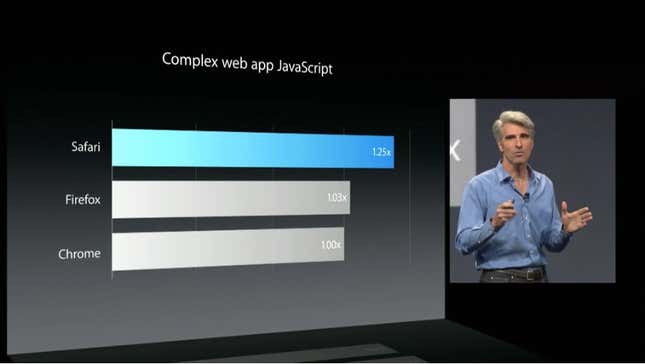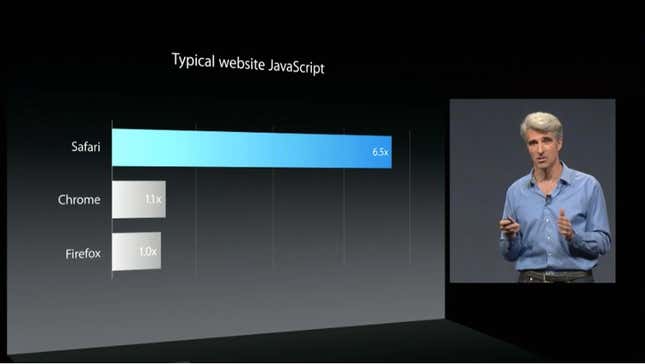 While showing off a feature that allows for the transfer of work from a computer to a tablet, Federighi showed some charts inside a Numbers document. (Numbers is Apple's spreadsheet software). These charts weren't designed to illustrate anything about Apple's business. But without them, we wouldn't be able to claim that we've grabbed every chart in the presentation.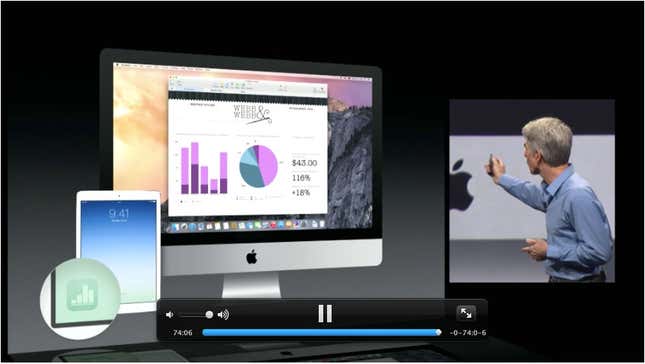 Cook returned to the stage to say that 89% of iPhone, iPad, and iPod Touch users are using the latest version of iOS, Apple's mobile operating system. The chart implies that relatively few older Apple devices remain in use, as iOS 7 can only be installed on newer devices. This means that iPhones released before June 2010, iPods released released before May 2013 and iPads released before March 2011 account for 11% or less of currently used Apple mobile devices.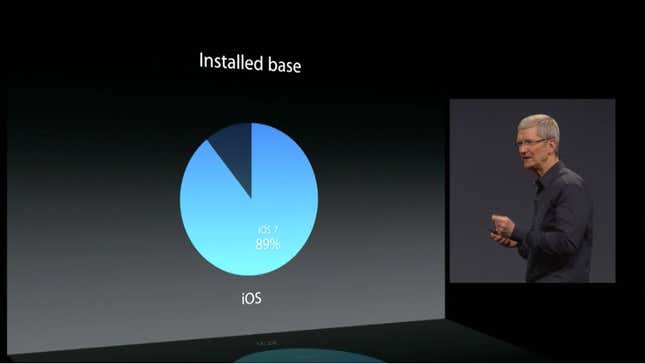 Then, the presentation moved from picking on Microsoft, to picking on Google's Android mobile operating system.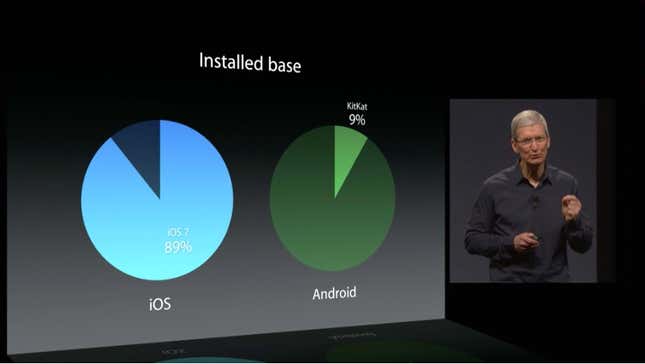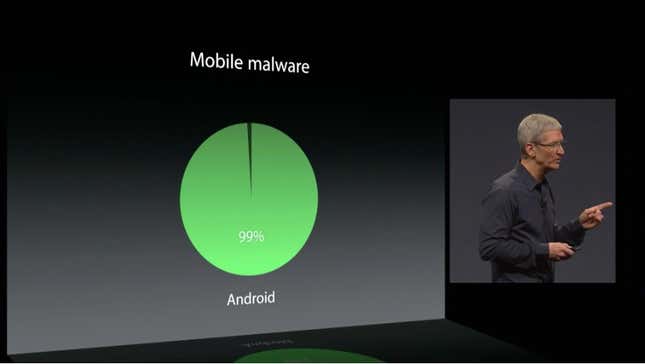 Apple also announced that it's allowing app developers to use the iPhone's fingerprint sensor to authenticate users instead of a password. According to Apple, 83% of iPhone 5s users take advantage of the fingerprint sensor.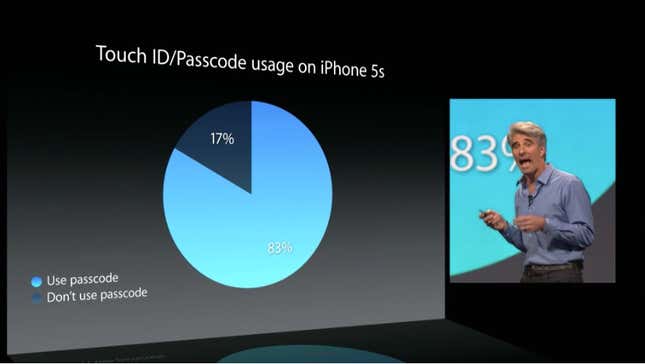 The company also introduced a new programing language for iOS called Swift. Executives claimed it's significantly faster than the currently used Objective-C and the popular but-not-for-iOS language Python.