Transportation bottlenecks have been very good for China Shenhua Energy, the world's largest coal producer. The state-run giant profits from the fact that coal costs an average of about $11 more per ton on the coast where it's burned, than in the interior, where it's excavated, according to Sanford Bernstein analyst Michael Parker.
But now China is aggressively building out high speed and standard rail, which will lessen the freight hold-ups that drive up the cost of the coal, potentially spelling big trouble for Shenhua. "I think it will be terrible. If you look at the business, a significant part of its profit comes from buying [coal] for cheap on the interior and selling it on the coast," Parker told Quartz. "They make money exploiting that arbitrage." Shenhua was not immediately available for comment.
The opportunity exists because of what Parker describes as "railway frictions," including transport gaps that require coal to be transported on the back of trucks instead of rail, and corrupt local officials who require bribes. Those costs don't bother Shenhua because it operates its own rail line—the only coal producer in China that does—but it still sells its coal at inflated prices on the coast. Parker estimates that the Hong Kong-listed company makes over 20% of its profits–or roughly 9 billion yuan ($1.46 billion), based on last year's net profits—from the arbitrage.
China's aggressive expansion of its rail infrastructure should change that. High speed rail is moving passenger trains off of standard rail lines and making way for an expansion of rail for transporting coal. Within the next two years, new added rail lines will help carry an additional 842 million tons (764 million tonnes), or about 39% more than current capacity, according to Parker.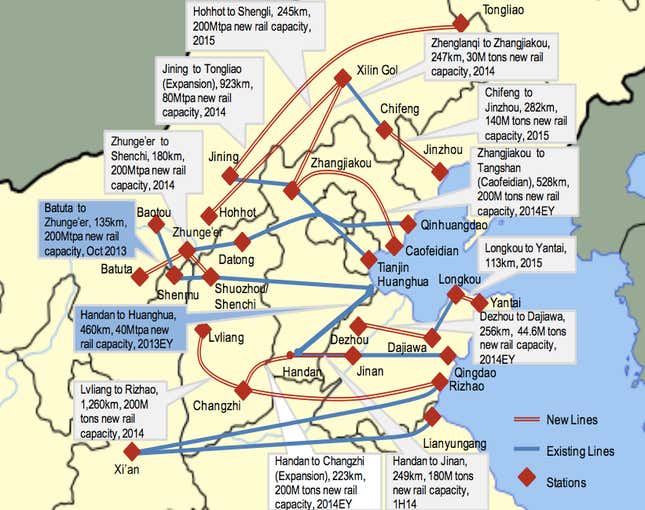 Shenhua, which has already seen its profits fall 9% last year, is taking some measures to counteract falling coal prices, which are also the result of the country's focus on natural gas and renewable energy (paywall), in addition to improved infrastructure. The company is expanding from its existing base of revenues from power plants and ports, as well as railway lines. Last year, it bought a Chinese chemical processing firm and announced the beginning of a joint venture to explore shale gas in the US.