The Japanese telecoms firm Softbank has unveiled a humanoid robot named "Pepper," promising that it will be able to read and express emotions, and eventually serve as a medical worker, party companion, or even a babysitter.
Softbank is pricing Pepper as a consumer electronics must-have at 198,000 yen ($1,900) when it goes on sale in February. Taiwan's Foxconn (a.k.a. Hon Hai) will take care of manufacturing. Details on the 48-inch (121 cm) high robot's capabilities are scarce, and the first iteration of Pepper may end up being not much more than a humanoid curiosity.
But the real growth market in Japan—and perhaps throughout the developed world—will be robots that can take care of the fast-growing population of elderly people.
Climbing the robot career ladder
Softbank plans to accumulate know-how from Pepper's initial interactions with humans—it will be stationed at several Softbank retail stores beginning this week—and use that knowledge to build "a household robot that can be used in nursing care for the elderly, among other uses," the Nikkei newspaper reported. Among the robot's capabilities are the ability to "estimate emotions based on expressions and voice tones."
The robot was largely developed by France's Aldebaran Robotics, known for a soccer-playing humanoid robot called Nao. In 2012, Softbank purchased an 80% stake in Aldebaran for $100 million. That could turn out to be a characteristically canny investment for Softbank CEO Masayoshi Son—especially if Pepper finds customers in Japan's booming elderly care industry.
No one left to care for Grandma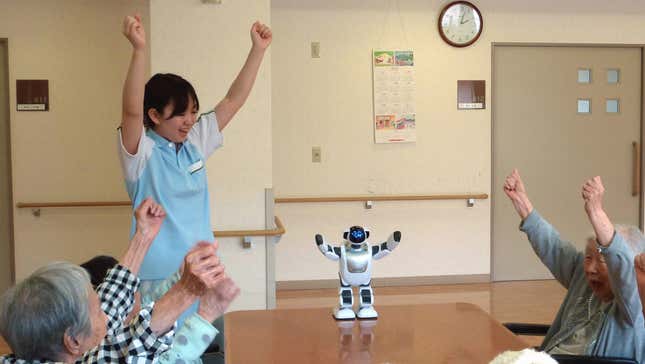 Japan's demographic predicament is so dire that robots may be the only answer to a diminishing workforce. The country is on pace to lose a third of its population in the next 50 years, and more than 40% of people will be over 65 by 2060. (Put another way: adult diapers are outselling children's diapers.)
The country's "care technology market" is already worth more than $1 billion a year. The government allocated $23 million last year to "help develop nursing care robots and spread their use," and selected 24 companies, including Toyota, to receive subsidies for developing "nursing care robot equipment."
"There will be a market for these robots in retirement homes without enough nurses, robots that can accompany Alzheimers patients and help them find their way back to their rooms, for example," Aldebaran founder Bruno Maisonnier told the Financial Times in 2012 (paywall). "In the future, we might have a robot for each person, helping older people get three or four more years of autonomous living before they even have to go into a care home."
But will Grandpa care for Pepper?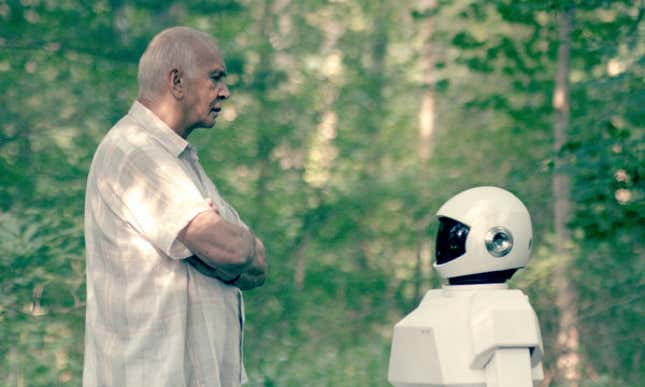 It remains to be seen whether older people in Japan will show as much as enthusiasm for Pepper as Son did on stage. A plush robot seal called Paro has been well received in some Japanese nursing homes, but it's a long way from a stuffed animal to a humanoid. A few years ago, Tmsuk, a Japanese robot maker, scrapped a pilot program to put a one-meter (3.2 ft.) tall robot in hospitals, in part because of a lukewarm reception from patients. "We want humans caring for us, not machines," one of them complained.
And this is in Japan, where robots are already part of the culture. Older people in other countries may find the idea of a robotic companion even harder to accept.