On Feb. 12, a 40-foot wide sinkhole opened up in the Corvette Museum's Skydome, a display of more than 30 of the General Motors classic cars. Among those that dropped into the hole was the 1 millionth Vette built, a white 1992 model.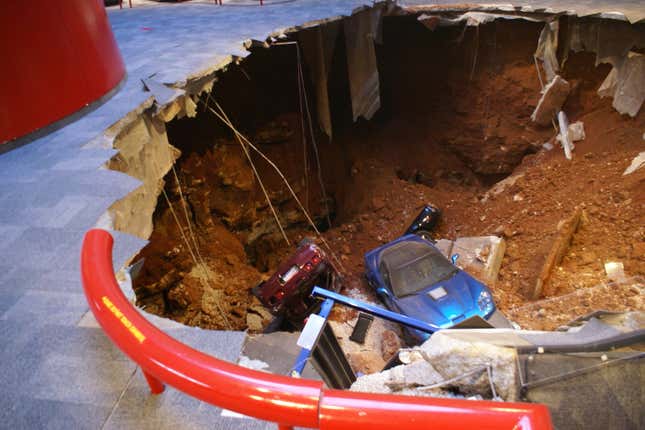 But instead of just dropping down into earth and doing a lot of damage, the Corvette-swallowing sinkhole actually caused attendance to skyrocket at the National Corvette Museum in Bowling Green, Kentucky. The 60-foot-deep sinkhole is such an attraction that 63,750 people showed up from February through May, 50% more than last year, many specifically to see the sinkhole. The museum plans to keep it open at least through the summer and its 20th anniversary celebration in late August.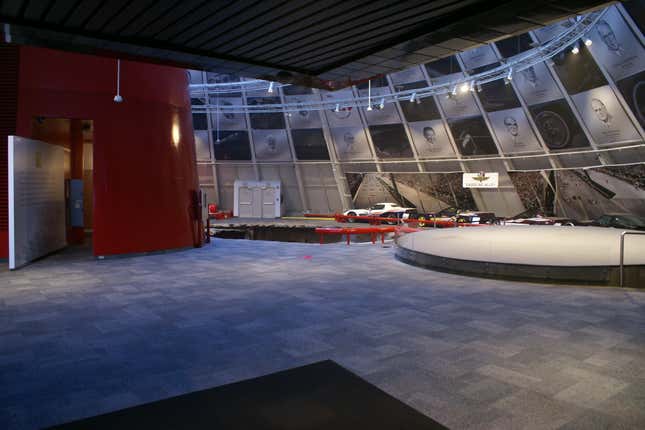 One by one, the Corvettes have been fished out of the sinkhole. One, the 2009 ZR1 Blue Devil, on loan from GM, started right up and seemed barely scratched, but the final recovery, a badly mangled 2001 Corvette Mallett Hammer Z06, was barely recognizable to its former owner.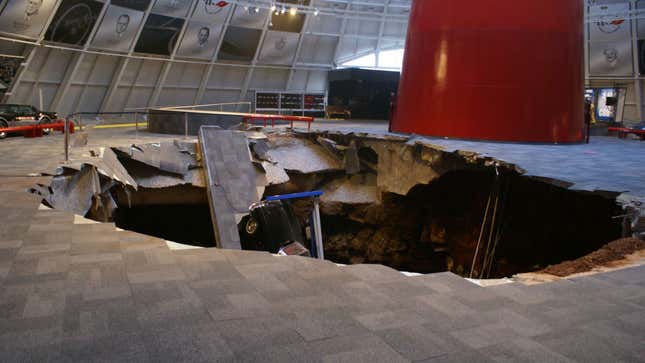 The museum installed one webcam, then two others in mid-March, to allow car enthusiasts and curious to watch the recovery. Now the so-called "Great 8" Corvettes are on display; those that cannot be restored will remain in its halls, part of the museum's storytelling around the sinkhole.
Sinkholes have certainly swallowed cars (and people) before. In a residential area of Florida, a man in bed fell into one.  Another in central Florida claimed a boat and a backyard swimming pool.
The Corvette museum is situated in a region filled with caves that regularly sees new sinkholes. But the collector cars-swallowing was a first. "It was unique for a lot of reasons," says Matt Dettman, a professor of civil engineering at Western Kentucky University who has studied sinkholes for two decades. "Normally you don't find them in buildings."
The museum spokeswoman Katie Frassinelli pointed out that the cause of the sinkhole may have been a small cave, thousands of years old, which runs under the Skydome. Heavy rains and possibly improper drainage may have eroded the cave's ceiling, causing it to fall in.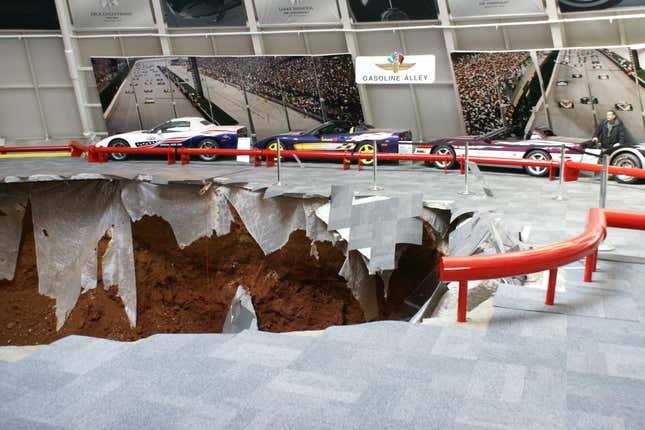 The museum's board will meet on June 25 to review proposals to repair the Skydome. Among the possibilities is keeping the sinkhole on display, hoping to keep the increment of tourists going, or maybe just leave a corner open for viewing.