Uber hit the accelerator in its most recent funding round. The ride-sharing startup just put the finishing touches on biggest funding round of any technology startup in history, according to PrivCo, which provides financial data on privately-held companies. Uber raised $1.2 billion in its latest funding round from a group of investors including mutual fund giant Fidelity. The round values the company at $17 billion, about five times its valuation from just a year ago.
Just to put things in perspective: Uber's funding round is nearly as big as the combined largest funding rounds of online home rental company Airbnb, which recently raised $450 million in equity, cell tower company NextG Networks (paywall), and Uber's own $361 million round a year ago. Uber's latest capital round also surpasses Facebook, which had raised $1 billion in 2011 (paywall). A later $500 million obtained by Facebook before going public in 2012 is not considered "funding" because it was a so-called secondary offering (secondary offerings aren't considered funding because they don't go directly to the company and instead are between one shareholder and another, notes Sam Hamadeh PrivCo founder.)
Uber, like Airbnb, is part of a burgeoning group of new businesses promoting what's known as the "sharing economy"— collaborative services, like those that facilitate car-sharing or home-sharing, over consumption.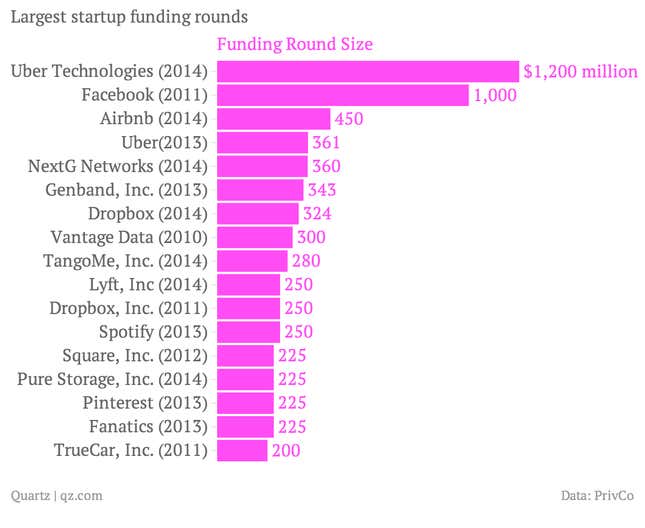 Uber CEO Travis Kalanick confirmed the record late-stage equity raise on the company's blog, acknowledging the firm's $17 billon valuation, which also puts it in record territory for a startup.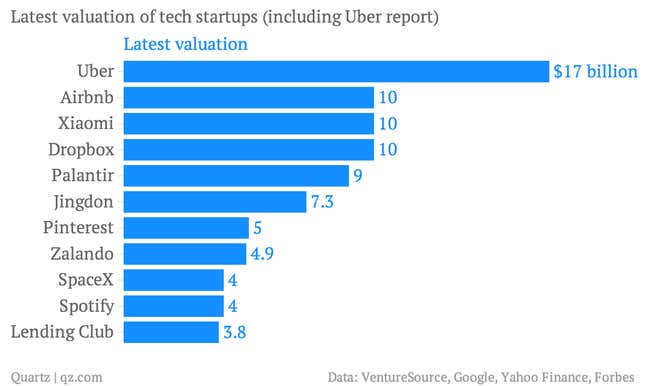 Bloomberg notes that, at $17 billion, Uber rivals the valuation of well-established, publicly traded companies such as car rental firm Hertz Global and retailer Best Buy. Critics aren't necessarily buying Uber's valuation. "Uber's uber-valuation is a stretch given Uber's numerous legal and regulatory challenges not fully discounted in Uber's $17 billion valuation," said PrivCo president Sam Hamadeh via email. Maybe Hamadeh has a point: Uber is said to be battling more than a dozen lawsuits stemming state and local agencies aiming to limit the company's car-sharing business. However, that hasn't driven investors away.