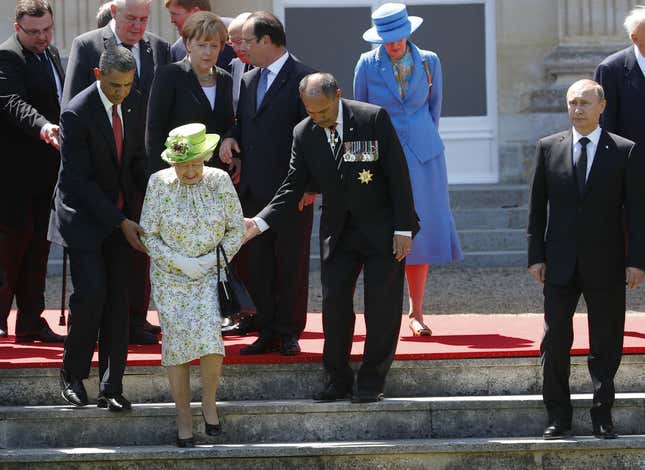 A consortium of world leaders came together in France today to commemorate the 70th anniversary of the Allied invasion of Normandy, and one image and one video tells you all you need to know about their day.
As we wrote this morning, the presence of world leaders from the United States, France, Great Britain, Germany, Ukraine, and Russia created some awkward encounters. For one, President Obama and Russia's Vladimir Putin—who in recent months have publicly discussed the probability of letting the other one drown in a flood—had an "informal conversation," a White House official said, parts of which you can see in this Vine.
Putin's spokesman said that the two "spoke for the need to end violence and fighting as quickly as possible," according to USA Today. The White House, meanwhile, said Obama discussed the need for Russia to recognize Petro Poroshenko as leader of Ukraine. That short meeting was the first face-to-face talk of the two leaders since the Ukraine crisis began.
In addition, a photo from the day—taken by Charles Dharapak for the AP—provided a more symbolic reminder of Putin's current status among American and European leaders.
That's Obama and New Zealand Governor-General Jerry Mateparae, helping Queen Elizabeth II navigate the steps, as a gaggle of European heads of state gather behind. Then some guy who is almost cropped out of the frame.
It's an apt image of Russia's leader since his country was suspended from the Group of 8 in March. So even with some informal talks, Russia and Putin still have some barriers to cross before relations normalize.
This post originally appeared at The Wire. More from our sister site:
A history of World Cup Anthems
Fox News turns Bowe Bergdahl into a Jihadist