FIFA, the organization behind the World Cup, will reap an estimated $1.6 billion from corporate sponsorships of the 2014 edition of the planet's biggest sporting event. In exchange for large sums of money, multinational corporations can market their association with the tournament in their own ads, and get their brands seen by the enormous audiences the tournament will attract.  So expect to see the following logos on plenty of field-side billboards over the next few weeks.

That poses a problem for these brands' rivals. What do you do when your competitor is getting a whole lot of exposure during an event that captures practically the entire world's attention? Come up with an ambush strategy—ideally one that doesn't break the law. (In 2010 two Dutch women working for one of the country's brewers were arrested in a botched marketing stunt. Budweiser was the official beer sponsor at the 2010 World Cup, and will be again for this year's tournament). Here are some of the best marketing strategies by companies that actually aren't sponsoring the World Cup.
Nike (which competes with official FIFA partner Adidas)
This will be perhaps the fiercest battle during the World Cup that doesn't take place on the field. Adidas's balls will be used in matches, and its logo will appear on sideboards. But Nike is sponsoring more individual teams (10) than Adidas is (nine), including the host nation, Brazil, and the United States. It is also sponsoring more star players than Adidas.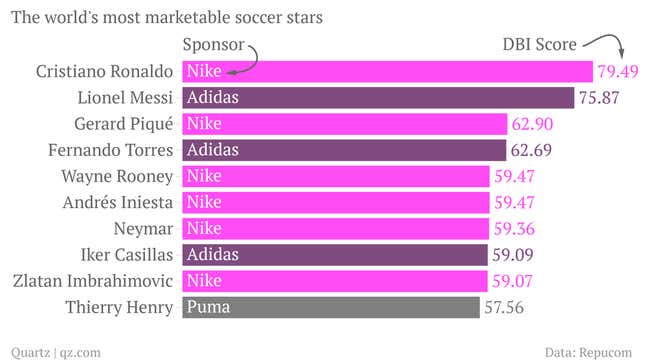 Beats, now part of Apple (Samsung)
Just in time for the World Cup, Beats by Dr Dre released this fantastic advertisement that features Brazilian star Neymar and other star players donning the company's headphones. Apple, which bought beats recently for $3 billion, would never pull such a stunt. Its marketing is notoriously conservative (maybe another reason it wanted to acquire a brasher company like Beats). At any rate, the ads—which have been described, with some justification, as the best World Cup ads ever—must be annoying for Apple's bitter rival Samsung, which is an official World Cup partner.
Pepsi (Coca Cola)
Coke has said it is not concerned about being ambushed by its rivals at the World Cup, nor is it worried about being associated with a tournament that is deeply unpopular with citizens in the host country. But Coke's main rival, Pepsi, earlier this year released a commercial set in Brazil, featuring some of the world's star players, that makes no direct mention of the World Cup. Gatorade, one of Pepsi's brands, also released its a commercial of its own.
Mastercard (Visa)
OK, so this one's a bit of a stretch. Mastercard lost FIFA sponsorship rights in acrimonious circumstances to Visa back in 2007. While it hasn't employed outright guerrilla marketing tactics—at least not yet—it has cleverly tipped marketing dollars into adjacent events. It is the official sponsor of Europe's two biggest soccer championships, the European Championships and the UEFA Champions League, as well as the (much smaller) Rugby World Cup being held in England last year.