Apple shares started trading this morning on an adjusted basis, following a 7-for-1 stock split. What a run it has been since Apple's last stock split in February of 2005.
A different Apple
By early 2005, co-founder Steve Jobs had been back at Apple's helm for several years, after a hiatus. And although he had already made major changes, the company was still far from what it is today. There was no iPhone, iPad, iOS, App Store, or Apple TV, nor any movies or podcasts on the iTunes store. The prior year had generated $11 billion in sales—less than Apple does in a month now.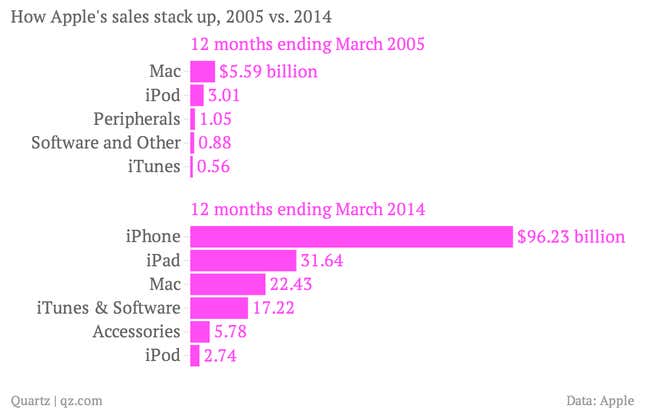 Back then, the iPod was Apple's growth engine—bigger in sales then than it is today. The Mac was about to switch to Intel-based chips, fueling its next phase of growth. And Apple was about to announce a mobile phone collaboration with Motorola, which later led to the iPhone, iPad, and the app revolution.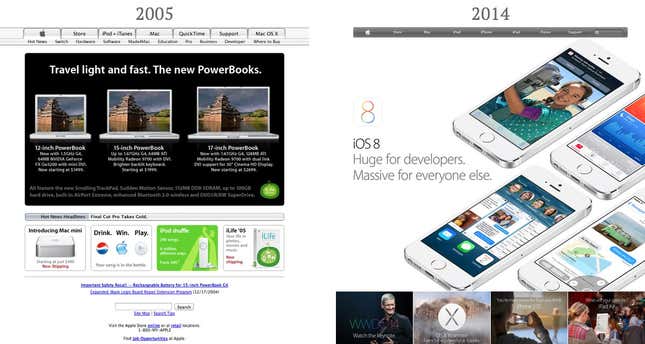 Apple's homepage in February 2005, as captured by the Internet Archive, highlights the company's trio of PowerBook notebooks—its flagship Macs—which are all slower than the iPhone 5S pictured on today's homepage.
Changing faces
Apple's 2005 executive bios page also reveals a different era. (Although, perhaps, a forward-looking preview of iOS 7-style round avatars.)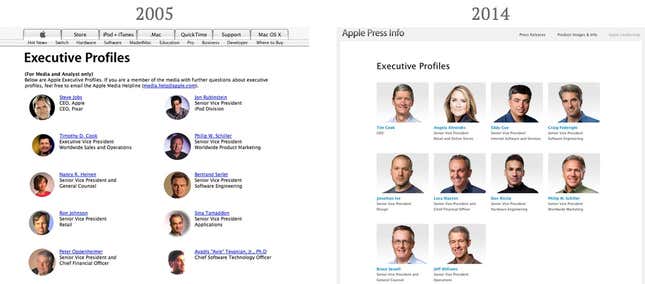 Steve Jobs, of course, died in 2011. Tim Cook, then SVP of Worldwide Sales and Operations, is now CEO. Jon Rubinstein, SVP of the iPod Division, left and later led Palm's failed comeback. Phil Schiller, SVP of Worldwide Product Marketing, is still there in a similar role. Chief financial officer Peter Oppenheimer just retired. Other executives—notably, retail head Ron Johnson and technology leaders Bertrand Serlet and Avie Tevanian—have all left.
A home run
With Apple's massive sales and profit growth, shares have risen dramatically since early 2005. (Hence the split, which Apple says it wants to make shares "more accessible to a larger number of investors.") On a split-adjusted basis, shares closed on Feb. 28, 2005 at $6.13. Now they're worth 15 times more.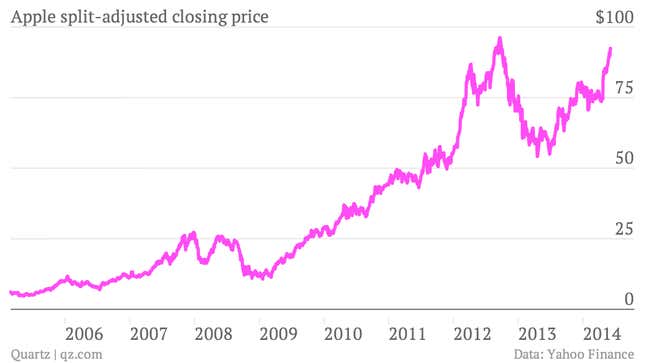 Shares haven't moved much yet today—They're trading at around $93.75. Apple's all-time high, reached in September 2012, is now $100.72, on a split-adjusted basis.