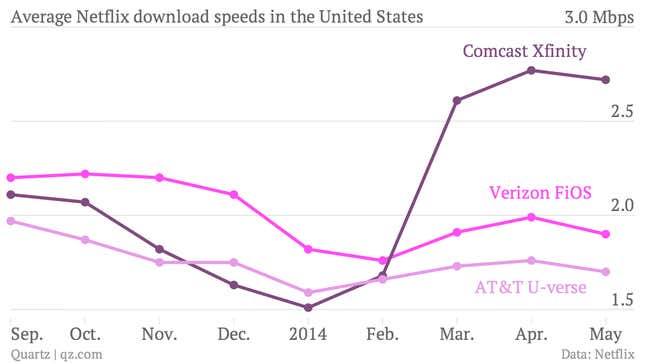 Netflix just updated its rankings of internet service providers (ISPs) by download speeds, and the data for the United States say a lot about the company's current battles and deals with some of those ISPs.
Late last year, the quality of Netflix video began to deteriorate for customers of Comcast, Verizon, and AT&T internet service. The ISPs argued that Netflix should have to pay to improve those connections because it sends an ever-increasing amount of data across the internet. And that's where the stories diverge.
Comcast: Netflix in February agreed to pay Comcast for a more direct route to subscribers. Download speeds for Comcast customers using Netflix immediately improved, which is either evidence that the system worked or that those kinds of deals shouldn't be allowed, depending on where you stand.
Verizon: Netflix struck a similar deal with Verizon in April, but the connection hasn't been set up yet, so speeds haven't improved yet. In the meantime, it was revealed that Netflix had begun testing a new error message that blames ISPs, including Verizon, for poor video quality. Verizon demanded that Netflix stop doing that, adding, "I sincerely hope this is not a harbinger of things to come in terms of how Netflix treats its network partners." Netflix just said it will end the test on June 16, but could ultimately bring the messages back for all of its customers. Verizon customers, meanwhile, still aren't getting a great Netflix experience.
AT&T: Netflix hasn't struck any such deal with AT&T, so their dispute continues to hurt Netflix download speeds for AT&T customers.
.