Italy sent its World Cup team to Brazil looking rather dashing. The Italian players' decadent suits—navy wool by Dolce & Gabbana, worn in all three pieces by every player despite the Brazilian sun—made a great display of "Made in Italy," especially when compared with the English team's more modest Marks & Spencer suits.
While the England's "Autograph" suit is available online at a sensible £264 (about $440), the Italian look is more likely to break the bank. One could buy a similar three-piece Dolce & Gabbana suit off the rack for $3,345—tie pin not included. The team's wardrobe also includes outerwear and a more casual ensemble, all of which is available for interactive viewing—though not for purchase—online.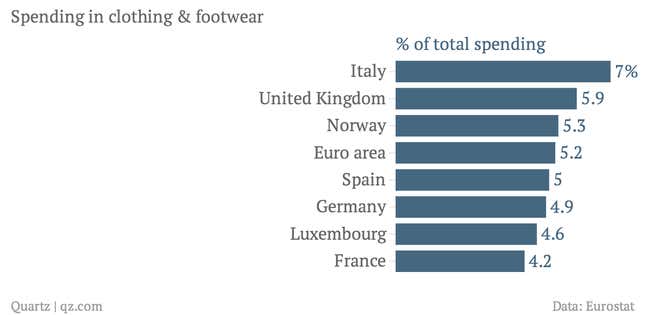 However hard the recession hit Italy, the country's national team didn't miss the opportunity to showcase the country's famous tailoring. In that, it reflects the attitudes of Italians in general, who spend more of their income on clothing and shoes than any other country in Europe.
This doesn't mean, however, that Italians haven't reduced their budget for clothes and shoes significantly as their wallets have felt lighter. From 2011 to 2012, in particular, when the per capita income decreased 2.7%, clothing and footwear dropped 9.9%.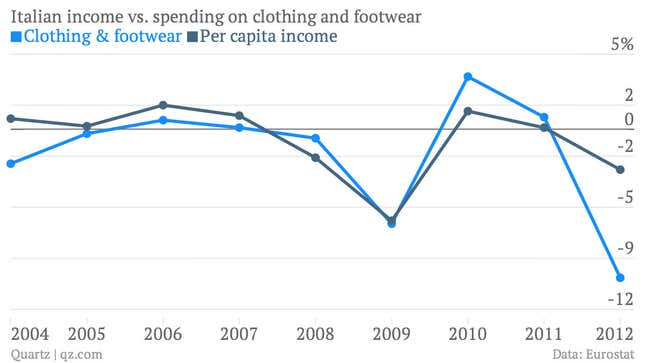 And while Italians are reducing their budget for fashion, the British are increasing it—from 5.5% in 2007 to an extravagant 5.9% in 2012.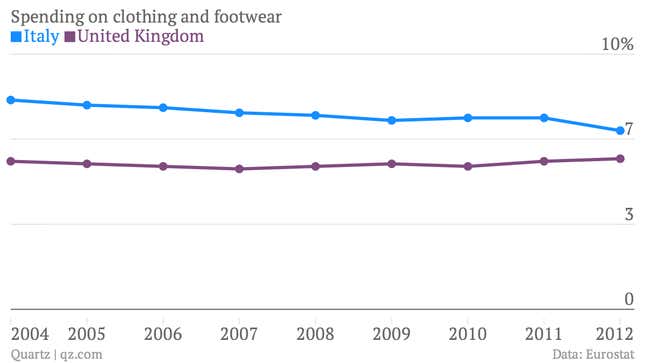 If these trends continue, perhaps the English team will challenge the Italians' style supremacy in Russia in 2018. For now, the Brits are outmatched by the country where bella figura—a philosophy of living that attributes great importance to good appearance as a sign of grace—still matters immensely. But still, at least in formal occasions, they could do with an Italian mother's typical advice: "Don't underestimate the power of a good suit."