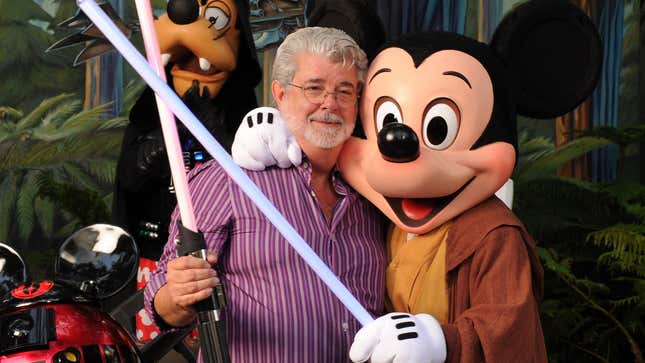 With its $4 billion acquisition of Lucasfilm from owner George Lucas, Walt Disney gains control of one of the most storied franchises in US film history: the Star Wars saga that Lucas created.
In announcing the purchase, Disney touted the success of other firms it has acquired: animation studio Pixar in 2006 and comics franchise Marvel in 2009. But just how good a custodian is Disney of the artistic and theatrical legacies of the companies it buys?
This is a matter of no small concern to Star Wars aficionados. The latest release in the saga, Star Wars Episode 7, is due out in 2015, with other films to follow. Disney may be interested in maximizing revenue through theme park rides and merchandising tie-ins—but for fans, the future of one of the world's most beloved science-fiction storylines is at stake.
To answer the question, Quartz took a closer look at the critical performance of Pixar and Marvel films following their acquisitions by Disney, working from audience ratings compiled by Rotten Tomatoes. For Pixar, we also looked at domestic US and global ticket sales data from Box Office Mojo.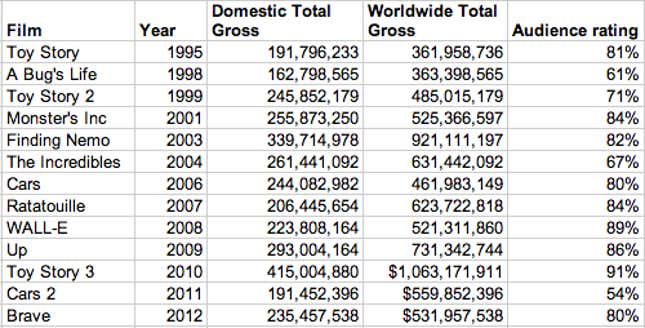 The good news: there's hope for Luke Skywalker fans around the world.
The average Pixar audience rating prior to its acquisition was 75%, rising to 81% after Disney took control. Quartz counted "Cars" as pre-Disney, because it was released the same year that Disney acquired Pixar, suggesting Disney had less impact on the final product. But the tallies were nearly the same if "Cars" was counted as a full Disney production.
Box office takes tell a more ambiguous story: Pixar movies have grossed an average of $258 million in the US since the acquisition as against $243 million before. That's a slight improvement, but pre-acquisition films were significantly more lucrative if the numbers are adjusted for inflation. However, with the changes in consumer technology and theater-going over the past two decades, it's hard to compare on an equal basis anyway. Global box office figures show a starker contrast: in the years before the acquisition, Pixar grossed an average of $537 million on seven films. The post-acquisition average was up to $671 million for six films with a whopping $1 billion on Toy Story 3 alone.
Interestingly, Pixar's post-acquisition movies posted both the highest and lowest Rotten Tomatoes audience ratings, with "Toy Story 3" at 91% and "Cars 2" at a miserable 54%. Hollywood has also spoken. Since Disney acquired Pixar, the studio brought in more Oscars, six, for only five films (Brave not counted since it's 2012) than the five Oscars Pixar won from its first seven films.
The case of Marvel also seems to support Disney's claim of successful stewardship. Movies using Marvel characters scored a 76% Rotten Tomatoes audience rating on average post-acquisition compared to 61% before Disney bought it. (Box office takes are harder to compare for Marvel, given how long there have been movies with Marvel characters in them before the Disney acquisition. Also, Marvel licenses some of its characters to other film studios, which clouds the overall ratings analysis.)
All the same, none of this is a guarantee that Star Wars diehards will embrace whatever artistic direction Disney brings to the franchise. Pixar's cutesy talking toys and fantasy creatures are a very different breed from the dark and complex alien life-forms that populate the Star Wars series. And as Jedi Master Yoda says, "Always in motion is the future."