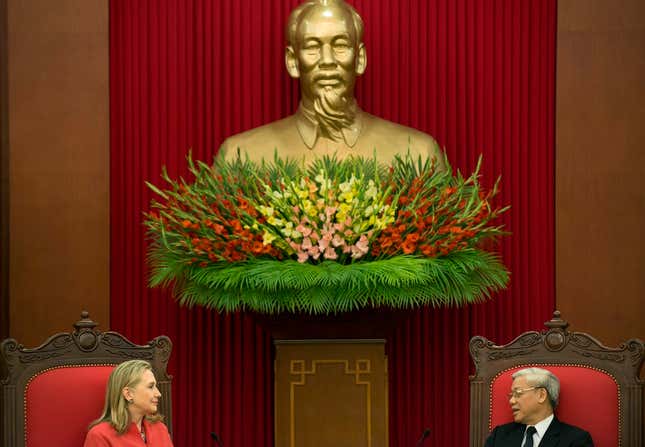 It may be a one-party Communist regime. But usually, Vietnam passes the all-important "try to take a photo with an armed guard" test, which shows how authoritarian one-party states really are. If you attempt this with the soldiers patrolling Beijing's Tiananmen Square, you will likely be escorted away. By contrast, the guards who stand in front of Hanoi's Ho Chi Minh Mausoleum usually pose with a big grin and a thumbs-up.
But the light-hearted and laid-back Vietnamese have new reasons to be paranoid. Yesterday, a court in Ho Chi Minh City jailed two musicians for singing anti-China songs. That was the first time in recent memory the Hanoi administration—which controls the courts—has locked musicians up for the content of their music. The  government often stands accused of stifling dissent, but lately it has been cracking down harder. The jackboot is coming down particularly heavily on anti-China protestors. According to Amnesty International, some students were recently arrested for distributing anti-China leaflets. (Vietnam has a burgeoning anti-China movement and there has been animosity between the neighboring countries for centuries.)
The Hanoi administration led by Prime Minister Nguyen Tan Dung may be earning friends in Beijing this way—or at least avoiding making more enemies, as tensions rise over China's increasingly aggressive claims to oil- and gas-rich patches of the South China Sea. Some think his concerns are purely domestic: a fear that anti-China protests could turn into protests against the Vietnamese government. And Vietnam imports a lot of shoe leather and fabrics for clothes from China. But he is sending the wrong signal to other trading partners. The US remains Vietnam's biggest source of exports, at 18% of the total in 2011, followed by China with 11%. According to an HSBC study released last year, Vietnam is also America's fastest growing trade relationship. Other major trade partners include Japan (an American ally) and the EU.
Vietnam has a good potential future ahead replacing China as a low-cost manufacturing center. Wages are low, and while Vietnam has the usual problems with entrenched government and local industry corruption (pdf), foreign investors see the political situation as stable. But Dung and Communist Party head Nguyen Phu Trong need to stop visibly tying their colors to Beijing's mast. Dung has already admitted to mismanaging the economy. Appeasing Beijing by continuing to ape China's human-rights record looks like a policy mis-step.