The power behind Alibaba, the massive Chinese e-commerce company now preparing to IPO in New York, is the Lakeside Partners. Named for a residential housing complex where Alibaba got its start, the partnership will have the exclusive right to nominate most of Alibaba's board of directors after the IPO.  So instrumental is this group that it's why Alibaba is now planning to list in New York and not, as it had originally intended, in Hong Kong. (The Hong Kong stock exchange's corporate governance standards forbid such shareholder structures.)
But as important as the Lakeside Partners group is, its members' identities have long remained a mystery. Until now, that is. The updated prospectus Alibaba filed earlier today lists them: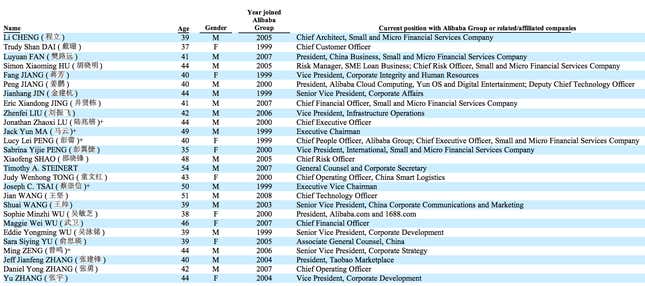 There aren't any really huge surprises here. Eighteen have been with the company since 2005 or earlier. Seven are among the original founders, including: Jack Ma, Alibaba's founder and chairman; Joe Tsai, the company's former CFO and current executive vice chairman and a shareholder of several Alibaba-affiliated companies; and Lucy Peng, who heads up the Small and Micro Financial Services Company (SMFSC), the parent company that owns Alipay, Alibaba's third-party payment platform (while still holding a title at Alibaba). Along with Peng, five other members are affiliated with SMFSC (more on that here), possibly to ensure that Alipay continues to work closely with Alibaba.
However, there have evidently been some changes since the last prospectus, filed on May 6. That version indicated that there were 28 Lakeside Partners; the new draft says there are now 27. Alas, since the original May 6 version  didn't reveal anyone's identity, we don't know who got booted out of Lakeside.
Also interesting is that Alibaba announced its independent directors. These include: Chee Hwa Tung, the first chief executive of Hong Kong after the UK handed the territory back to the People's Republic of China; Jerry Yang, the co-founder of Yahoo; and Michael Evans, a former Goldman Sachs executive.