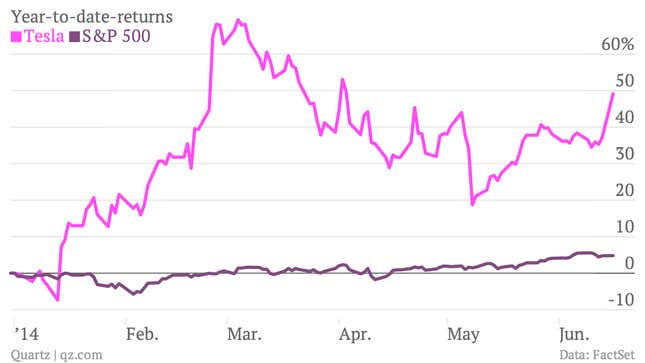 Elon Musk's risky gamble to let rival car makers use Tesla's patents for free, which he announced just last week, is already working.
Shares in Musk's electric vehicle company were up by nearly 9% in normal trading hours today, and about 10% since he announced the decision. That means the visionary entrepreneur's own 23% stake in the company has appreciated by more than half a billion dollars since then.
Tesla shares are notoriously volatile—the stock divides opinion like few others, and is consistently ranked as one of the most heavily short-sold stocks in the US.
Today's rise was fueled in part by a Financial Times report (paywall) that says major automakers Nissan and BMW are "keen on talks" with Tesla, to collaborate on charging networks and on "possible global vehicle-charging standards." The news that the Tesla will start deliveries of its Model X utility vehicles early next year has also helped.
Musk said his decision was motivated by a desire to see more automakers develop electric cars. Some large automakers produce no zero-emissions vehicles at all, he lamented. Others are pursuing hydrogen fuel-cell cars, a technology Musk thinks (or hopes) is limited. Fostering an ecosystem around electric vehicles can only help Tesla: the more suppliers there are, the lower its costs could be, and the more widespread the technology, the smaller the incentive for innovators to work on competing technologies like fuel cells. The markets seem to agree, for now at least.