About 6.7 billion yuan ($1 billion) was "misappropriated" during the construction of a long-distance electricity grid in China last year, the country's top auditing office said this week.
The government report—which details the use of fake invoices and receipts, illegal bidding, and cost overestimates—is a rare swipe at two of the country's largest state-owned firms, and a sign that China's corruption crackdown may be targeting a new sector.
For the past decade, China has been building a high-voltage electricity grid that by 2020 will be able to transmit the power produced by the equivalent of 60 Hoover Dams across the mainland. The grid, known as the "West-East Electricity Transfer Project," is on par with China's other expensive, nature-shifting infrastructure projects like the Three Gorges Dam and the South-North-Water Diversion. The goal of the new grid is to boost development in China's poorer interior regions by producing and shipping electricity from west to east, which should also reduce the smog produced by power plants near crowded eastern provinces.
Open criticism of national projects like these is usually barred. This time, state auditors and media are being unusually candid. "We haven't even investigated half of the projects and already we've found so much corrupt money and all kinds of misuses. This situation is extremely upsetting. We need a reexamination," CCTV, a state-owned network, wrote in an editorial.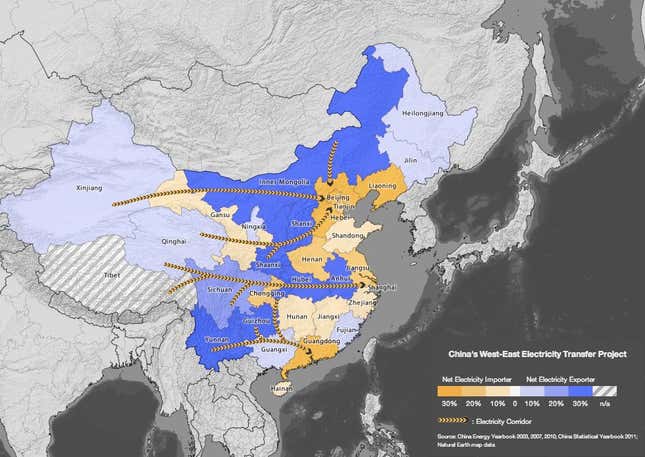 Auditors said they uncovered 1.38 billion yuan in "slush funds" created through fake contracts and invoices. Another 1.04 billion yuan was wasted on overestimates and "unnecessary expenses," and 3.44 billion yuan was misappropriated in illegal tender and bidding processes, Xinhua said. So far, a total of 179 billion yuan had been spent on the grid.
The motivation for the intrusive audit seems related to Chinese president Xi Jinping's broader anti-corruption campaign that has felled hundreds of officials. The crackdown recently focused on the state oil and mining industry, but this week's audit signals a shift to the power sector. The family of former Chinese leader Li Peng wields considerable control of the electricity industry, and some analysts believe Xi is taking aim at it in order to erode Li's influence.
The companies leading the electricity project, State Grid Corporation and China Southern Power grid, have already come under scrutiny. Last month, Chinese business magazine Caixin reported that the head of State Grid's north China operations was under investigation. The former boss of a subsidiary of China Southern Power Grid was also investigated for corruption earlier this year.
Wang Yukai, a professor at the Chinese Academy of Governance in Beijing, said there are likely more investigations to come in the power sector. He told the South China Morning Post, "The audit report sends out multiple signals. It is shocking to see so many problems with a project at the national level."
Cathy Sizhao Yi contributed additional reporting.