It's estimated there are about 100,000 organic chemicals in regular use in Europe, with 1,000 new ones entering the market each year. It's inevitable some of these compounds will find their way into waterways, but exactly how much of Europe is polluted and what kind of threat that poses to aquatic life has up until now remained murky.
Today, researchers from Germany, France and elsewhere released the results of what's reportedly the broadest-ever analysis of organic chemicals in European freshwater. Their findings are not heartening: They say they've gathered "strong evidence that chemicals threaten the ecological integrity and consequently the biodiversity of almost half of the water bodies on a continental scale."
After sorting through government data from 4,001 monitoring sites, they found pollution levels high enough to kill aquatic species at 14% of the sites. Meanwhile, chemicals swirling in the water were prevalent enough to cause chronic health effects at 42% of the sites. These areas of intense pollution were most often found downstream of urban areas and agricultural installations.
Because of limitations in measuring the pollution—there are relatively few sampling sites in rivers in Scandinavian and Baltic countries, for instance—it's likely these findings underestimate the true pollution risks, the researchers add.
What noxious stuff is floating in European water? The most dangerous, widely found chemicals were pesticides,  polycyclic aromatic hydrocarbons from burning petroleum or organic matter, brominated flame retardants often used in consumer products, and tributyltin, an internationally banned anti-fouling paint ingredient that leaches from boat hulls. Pesticides threaten many species of animals in the water, especially harmless ones that share certain traits of the targeted pests, while herbicides are most harmful to algae and invertebrate species.
Here's a map the scientists whipped up showing the extent of the contamination, with orange and red areas indicating regions with higher number of sites crossing the risk threshold for fatal (left) and chronic (right) harm. (White means no data was available.) Note that some Southern European governments don't monitor for certain organic chemicals, meaning the situation there is probably worse than pictured, and that the high risks shown in France probably are the result of comprehensive monitoring procedures that pick up many pollutants: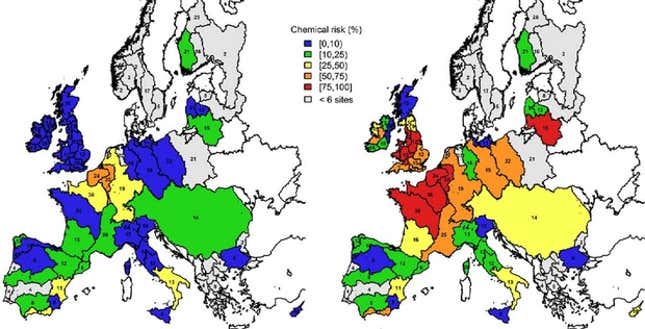 It can be reasonably assumed that areas of high pollution come hand in hand with ecological damage, according to the researcher team, which was led by Egina Malaj at the Helmholtz Centre for Environmental Research-UFZ in Leipzig, Germany:
Increasing chemical risk was associated with deterioration in the quality status of fish and invertebrate communities. Our results clearly indicate that chemical pollution is a large-scale environmental problem and requires far-reaching, holistic mitigation measures to preserve and restore ecosystem health.
To cut down on the pollution proliferation in European waterways, they suggest a number of preventative measures, including adding riparian buffer strips where farming fields meet rivers; adopting less chemical-heavy techniques in the process of wastewater treatment, like ozonation; and designing organic chemicals with the philosophy of green chemistry in mind, so they don't cause as much damage when they do get released into the environment.
This post originally appeared at CityLab. More from our sister site:
The triumphant return of private US passenger rail
Chili's is betting you'll spend more money if your server is a screen
A brief history of Brazil's most treasured World Cup stadium