Citigroup is shelling out HK$5.42 billion (about $700 million) to build headquarters in Hong Kong. The purchase of the 512,000 square feet (47,566 square meters) twenty-one-story building, to be completed next year, is the largest single-office transaction the city has seen.
But Citigroup and the 4,500 employees that will be working from its new HQ may not be getting that much bang for their buck—another example of the city's extreme property rates. Hong Kong is the second most expensive city in the world to rent office space—after London, which unseated the Chinese city only last year. (Costs in Hong Kong are almost $2,000 per square meter a year, compared to $1,344 per square meter in New York.)
This is what Citigroup's new building, along with another purchased by Manulife, should look like, according to renderings from the developer, Wheelock Properties. Staff should get a nice view of Hong Kong's Victoria harbor as well as a planned 100-hectare park, a rare glimpse of green in the dense city, and the "auspicious Lei Yue Mun," the small channel that separates Hong Kong island and Kowloon, Wheelock said.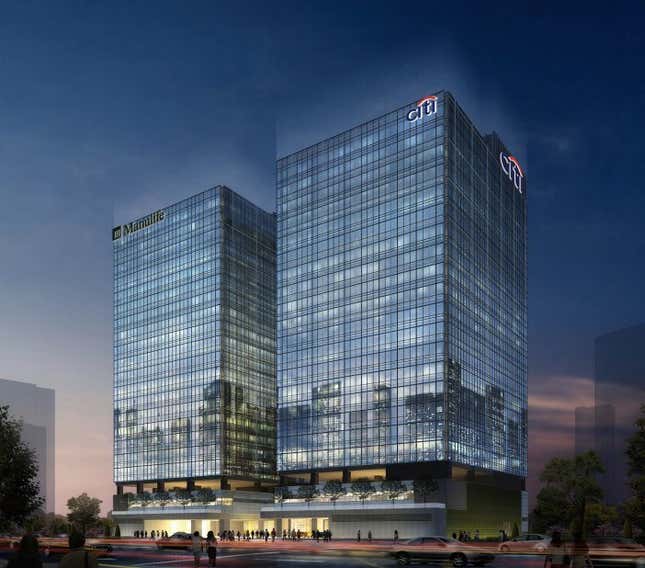 Citigroup's building will be far from the traditional financial center of Hong Kong, or its newer reaches in Kowloon—right in the "heart of CBD2," as the developer explains. CBD2, also known as East Kowloon, is a former manufacturing center that officials and developers have been trying to transform into Hong Kong's next business district since about 2011, so far with limited success. A government website for CBD2 nails one of the challenges to development: "As old industrial districts, the area is not particularly pleasing visually in terms of greening, open space and pedestrian environment."
The building is about 40 minutes via public transportation from the main business district in Hong Kong, known as Central, where Citibank Plaza, and many of the bank's executives are now located. One Citigroup employee told Quartz the location will be convenient for staff who live in Kowloon, but it is unlikely the bank's entire staff would be relocated to East Kowloon anyway.
Here's how parts of the heart of CBD2 look at least for now, before new buildings like Citigroup's come up:
Another downside to the area—Citibank Plaza is within walking distance of dozens of expensive, top shelf, banker-friendly restaurants, including the members-only China Club. In Kowloon East, on the other hand, there's a slew of local Chinese shops and a Pizza Express.