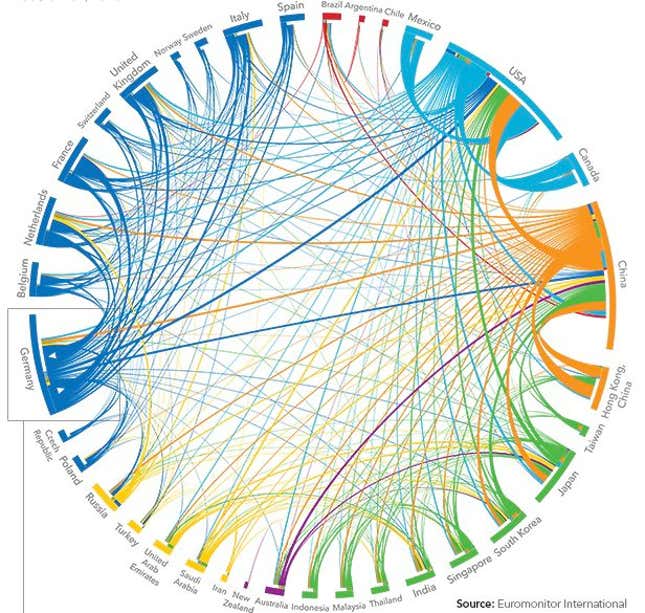 Quartz has analyzed how important geographic proximity is for determining a country's top trading partners—most countries trade the most with their neighbors. But a new graphic from the research firm Euromonitor that illustrates imports and exports of a selection of the world's biggest exporting countries underlines some interesting exceptions. (Note: the graph includes only the top 60% of countries exporting, by value, so there are many countries that are not represented.)
For instance, India' top trading partner last year was neither China or Pakistan, its largest neighbors, but the United Arab Emirates. Bilateral Indian-UAE trade was $75 billion between 2012 and 2013. The Indian Embassy in the UAE cites 2 million Indian expatriates living in the UAE, the largest expat community, as one reason. Academics have also argued that round-tripping, or the re-import of pearls and precious stones sent to the UAE in order to take advantage of India's exceptions on jewelry duty imports started in 2007, has artificially inflated trade.
Moreover, free trade areas established in geographic neighborhoods do not always provide a trade boost. Trade within the "Mercosur" trade area—Argentina, Brazil, Paraguay and Uruguay—made up only 13% of total exports for the group's member countries. China, America and the European Union accounted for the rest. Brazil sends 2.5 times more exports to China and the US than it does to Mercosur, Euromonitor notes.
That's because a few countries like China, the US, France and Germany have a particularly strong influence on global trade. As we've pointed out, 35 countries name China as their top trading partner, and about half of those are not neighboring countries.