There are some great things about London's iconic double-decker buses, including the view, the sense of space, and the ability (if you nab the front row) to pretend you're the one driving a giant hulk of metal through the streets. Less great is climbing up the stairs on a busy bus only to sheepishly lurch back down when you discover that all the seats are taken.
To prevent this indignity, Transport for London (TfL), the local transit authority, is testing a system that will inform passengers before they climb the treacherous stairs whether the effort is worthwhile, the listings website IanVisits notes. New screens will display which seats on the upper deck are occupied at any given time. "We hope to put the technology onto some buses used by passengers later this month," a TfL spokesman tells Quartz.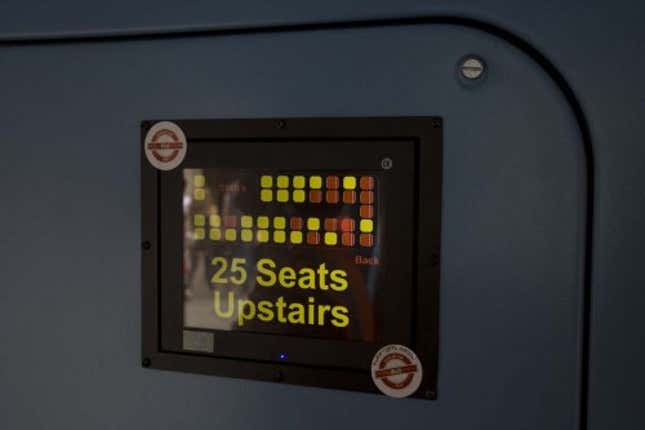 The technology that enables this is not, as in the smart-parking effort also underway in London, driven by sensors. Instead, "the 'seats available' feature uses CCTV data to inform passengers on the lower deck how many seats are available upstairs," the TfL spokesman says.
As anybody who has ridden London's buses and watched as the CCTV footage is relayed on the in-bus screens will tell you, the existing CCTV cameras do not have the best resolution. But this technology, in this case supplied by a UK company called Timespace, does not require fancy HDTV footage.
Similar technology has been in use in stores to track customer traffic and movement, and the way it works—again on existing cameras—is by creating a a very high-resolution base image from a series of separate images. This is known as "high-dynamic-range imaging" (HDR), which allows software to pick the best bits of different pictures to make one composite image. Even your iPhone offers HDR as an option. This video from the ominously named Prism Skylabs, which provides a similar technology for use in shops, explains it well:
Armed with the high-resolution base image, the software can figure out whether a seat is occupied based on whether there appears to be a person in it or not. This is fairly straightforward artificial intelligence stuff, and is no more an intrusion of privacy than the existing cameras themselves. IanVisits reports that TfL is also experimenting with a similar system to measure pedestrian traffic at crossings, in the hope that it can make foot traffic flow faster within the intricate dance that keeps London running.