We've said it before and we'll say it again—the route to riches in the tech sector passes through the CFO's office. And that seems to be doubly true for women in a notoriously male-dominated industry.
The highest-paid CFO in America is Safra Catz of Oracle (pictured above with company CEO Larry Ellison), according to a new analysis of S&P 500 companies by the Wall Street Journal (paywall). The first woman to top the list, Catz took home $43.6 million in the software maker's latest fiscal year. This was actually a pay cut from the previous year, when Catz was the second-highest-paid finance chief, after Apple's Peter Oppenheimer, with $51.7 million in take-home pay. (Oppenheimer pocketed $68.6 million that year.)
Partly explaining Catz's punchy paycheck is the fact that she is a co-president in addition to her CFO duties, reflecting the expanded responsibilities of modern finance chiefs. Notably, her pay has also risen steadily in relation to her boss, currently standing at a bit more than 55% of Ellison's compensation: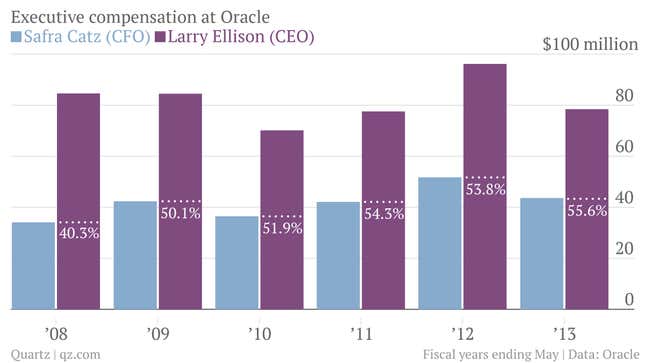 Companies will pay top dollar for CFOs with both specialist finance skills and strategic management chops, whatever their gender. But although female finance chiefs tend to be younger than their male counterparts, they are—like Catz—more likely to take on extra responsibilities: an Equilar study found that 60% of female CFOs in the S&P 500 held an outside board seat in addition to their CFO duties, triple the share of their male counterparts.
Catz's outsized pay—both in absolute terms and in relation to her boss—is mirrored by the other woman in the top 10 of CFO pay, Accenture's Pamela Craig. Craig, who retired in August last year, made $12.8 million in her last year at the tech-focused consulting and outsourcing firm, and earned around 70% of CEO Pierre Nanterme's pay, on average, over the past three years.
The highest-paid female CEO, by comparison, ranked only 27th in overall pay last year, according to a separate study of a similar group of large companies by the Journal. Carol Meyrowitz of TJX took home $20.6 million, or around half of Oracle's Catz. Women make up 10% of the top 200 highest-paid CFOs on the Journal's list, but only 5% of the 200 highest-paid CEOs—a difference that roughly reflects the overall proportions of women in CFO and CEO roles at big companies: