Apple is "ramping up" on two new iPhone designs with bigger screens, Bloomberg reports. This has been widely anticipated, as Google Android phones with larger displays have become popular, especially in Asia.
A research report published today indicates that a large portion of Apple's potential iPhone 6 customers are looking for phones larger than the iPhone 5S and 5C, which have 4-inch screens. About two-thirds of 705 would-be iPhone buyers surveyed by RBC Capital Markets want a bigger phone: 38% would go for a 4.7-inch screen at $199 (after subsidy), while 26% would pay $100 more for a 5.5-inch iPhone, according to the report. (Consider this author in the latter group.) RBC did not specify the geographic origins of those who responded to its poll via SurveyMonkey.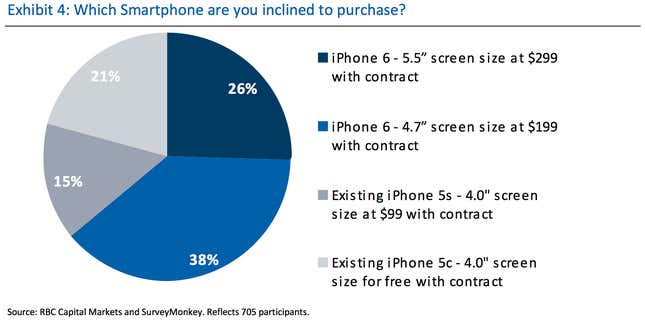 Still, screen size wasn't the most popular iPhone feature request among survey participants: 33% said longer battery life would make them purchase a new iPhone 6, while 23% said a larger screen. But the two changes could potentially happen simultaneously, depending on Apple's engineering priorities; a bigger screen means a bigger case, which could hold a bigger battery.
The iPhone 6 release, expected sometime in September, is crucial for Apple as growth slows. The iPhone represents more than half of Apple's sales and profits, and a particularly successful—or unsuccessful—debut could have a dramatic impact on Apple's overall performance.