Six Flags Corp announced plans this week to build some of its iconic amusement parks in China. But the company and other entrants into China's increasingly crowded parks and leisure industry may be in for a roller coaster ride caused by a rapidly inflating theme-park bubble in the country.
China's quirky amusement parks have long been famous. Developers built a park in Bruce Lee's ancestral home, a "Kingdom of Little People" in Kunming, which hires only performers shorter than 4 feet 3inches tall, as well the "Window to the World" park in Shenzhen, which consists of imitations of the world's most famous tourist sites. One amusement park in Sichuan province is reportedly preparing a reenactment of the Titanic's fatal collision with an iceberg.
In all there are already more than 2,000 theme parks (link in Chinese) in China already, according to estimates by Chinese tourism experts, compared to just over 400 in the United States, with another 64 due to launch in the next six years. It's no wonder global entertainment firms from Six Flags to Disney, which is building a Disneyland in Shanghai, are clamoring to enter the Chinese market: More than 108 million people visited theme parks in China last year, up 6% from 2012, and Chinese theme park groups like Oct Parks China, Fantawild Group, and Haichang Group, have entered global rankings (pdf, p. 9) in terms of attendance.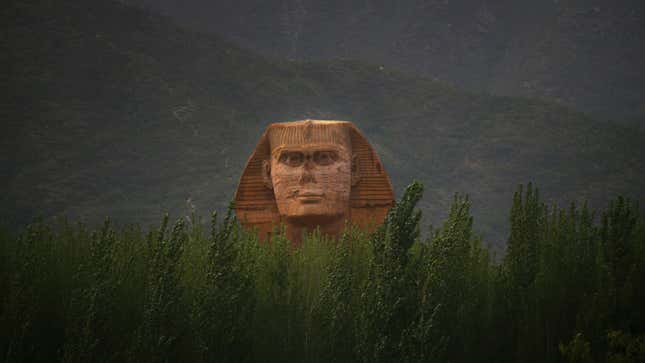 But whether this growth will continue is another matter. Investors are already worried that a slower-growing economy will weigh on families' propensity to shell out for a day of amusement. In March, Chinese theme park developer Haichang Holdings saw its share price sink 16% on the day of its IPO in Hong Kong.
Industry observers claim that less than 10% of the country's existing theme parks are profitable, and the prospects for new developments are dubious. "They can't all really develop, some of them won't happen," Dennis Speigel, president of International Theme Park Services in the US, told the China Daily.
Others worry that theme parks are just the latest way for real estate developers to buy up land. A tourism expert at the Chinese Academy of Social Sciences, Liu Simin, said that a "park plus real estate" model, in which real estate developers buy land from local governments cheaply and use it to build apartments as well as a park, is becoming increasingly common. (Because parks and recreation facilities are seen as in the public interest, land for these purposes is generally cheaper.)
Moreover, starting last year, Beijing began allowing revenue-starved local governments the authority to approve theme park projects under 5 billion yuan ($800 million) in investment. The theme park boom is likely to continue ascending steadily upwards like one of Six Flags' signature rides, but look out for the first big drop—it could be a doozy.
Cathy Sizhao Yi contributed additional reporting.