Frozen, the Disney cartoon-musical that swept the US in late 2013 and early 2014 only arrived in Japan in mid-March. And since then, it's completely taken over the country. It's still the No. 1 movie in Japanese box offices for the 15th straight week. Among its other accolades in Japan (where it was released under the name Ana and the Snow Queen):
The movie's made $231.8 million in Japan so far, more than any movie in Japan's history except Spirited Away in 2001 and Titanic in 1997—and it's within striking distance of the latter.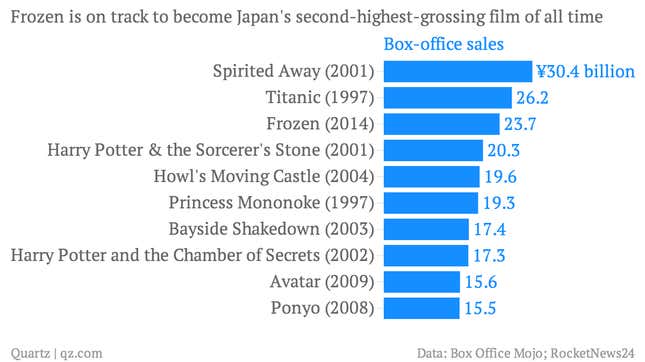 It blew past Avatar in early May to become the most successful 3D film in Japan ever.
The soundtrack's done solid business as well, topping Billboard Japan's "Top Albums" rankings for Nov. 2013-Jun. 2014 (link in Japanese).
Japan's Frozen box-office receipts have contributed 19% of worldwide earnings, second in the world behind the US's 32%, even though Japan has less than half the population of the US.
So, what's behind Japan's Frozen craze?
Undoubtedly, Japanese audiences are responding to the same qualities that have turned Frozen into a global phenomenon. Not only is the music catchy, but the story is morally nuanced enough that adults seem to enjoy it as well as children. And then there's the fact that Frozen revolves around the relationship between strong, commanding female characters who defy the "Disney princess" stereotype (even though they technically are monarchs).
That latter point is what makes Frozen's unexpected popularity—particularly among Japanese women—so striking.
The story centers on the closeness between two sisters—Elsa, the older sister and queen, and her younger sister Anna. Unlike typical princess movies, Disney or otherwise, romance isn't a big focus; in fact, the "handsome prince" ends up being a villain. And far from being a spunky but ultimately passive heroine like Beauty and the Beast's Belle or Aladdin's Princess Jasmine, Elsa is genuinely powerful. Not only is she queen, but she has the magic ability to turn things into ice—a magical power that in other Disney movies signals "evil" (think Maleficent or Ursula).
But Elsa's superpower is a mere distraction; chip away all that fanciful frost and it turns out the movie's mainly about her struggle to be an effective ruler while gaining control over her power and still caring for her sister—"having it all," as some might term it. And it's clearly no cakewalk. Elsa delivers the show-stopping number "Let It Go" as she (fairly irresponsibly) ditches her queenly duties for a life of self-imposed exile in an ice-castle of her creation.
A "screw 'em all" tirade against social expectations, "Let It Go" sees Elsa's embrace the weird power that makes her different from everyone else, rejecting the shame her parents had made her feel about it. It's not really her finest moment—while she's traipsing all over glaciers, her kingdom is in a state of deep-freeze. But it's also necessary: an instant of brazen self-acceptance that will soften into confidence. And people love it; "Let It Go" has become an anthem for the oppressed of all stripes, as this New Yorker article explains.
This is all pretty un-Disney, and the company seems to know it. Disney marketed Frozen in the US and Europe by playing up Olaf the Snowman—and omitting the whole musical thing—likely in a bid to appeal to boys, knowing that girls would see it regardless. Here's the US trailer:
That's unsurprising given how much better more masculine, action-themed movies tend to do: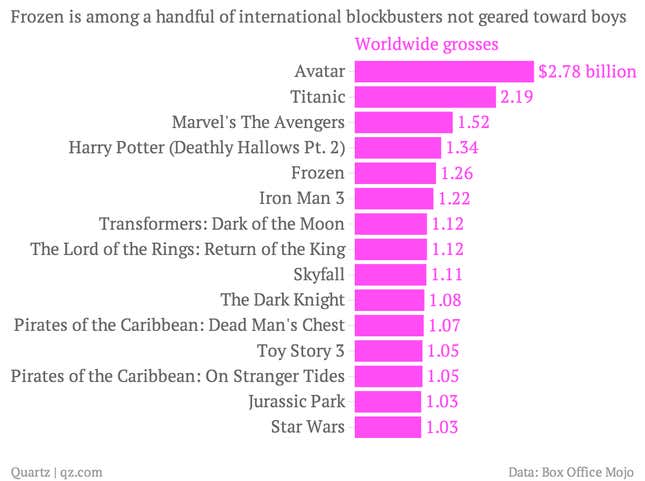 But Disney took a totally different tack in Japan, highlighting the girl-power themes in its promotions, says Tami Ihara, head marketing director at Disney (Japan).
"Unlike in the United States and other nations, we deviated from the strategy of catering to families and specifically targeted Japanese women," Ihara told the Japan Times (paywall), "who have the power to spur consumption and create a fad."
It's an intriguing ploy. After all, Japan's not exactly the land of female empowerment. On the contrary, in fact. Even though Japanese girls are among the best-educated in the world (paywall), women earn 30% less than their male counterparts. Female labor force participation is 63%, much lower than in other rich countries, and when women leave the workforce, the difficulty of affording childcare and finding a job after a few years off mean they seldom return.
And while strong female leaders may be dominating Japanese silver screens at the moment, they tend to fare less well in its boardrooms. All this is threatening to wreck Japan's economy. In a bid to boost growth—more working women could increase Japan's output by 15%—prime minister Shinzo Abe just launched a campaign to close the gender gap, including the goal of upping the percentage of female managers in Japan's central government from the current 3% to 30% by 2020.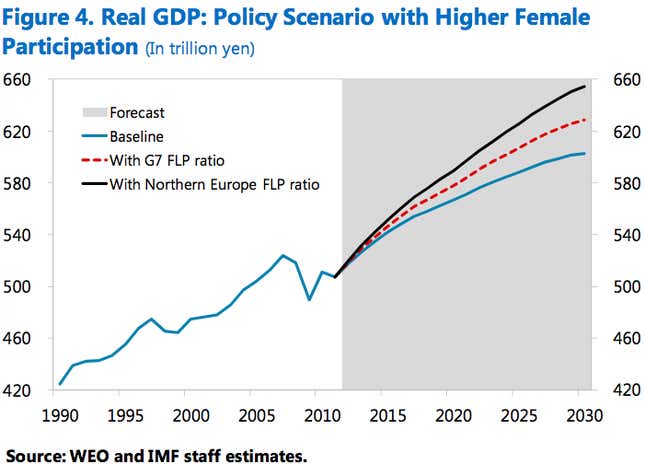 This fact is now highlighted by the other media sensation gripping the country right now—this one involving the sort of nasty, unrepentant sexism that Japanese workplaces are notorious for. Specifically, while a 35-year-old female politician Ayaka Shiomura gave a speech on the floor of the Tokyo Metropolitan Assembly on Jun. 19, a slew of male members of prime minister Shinzo Abe's Liberal Democratic Party heckled her (paywall), yelling things like "Why don't you hurry up and get married?" and "Can't you bear a child?" to rumbles of laughter from other men, persisting even as Shiomura appeared visibly distressed.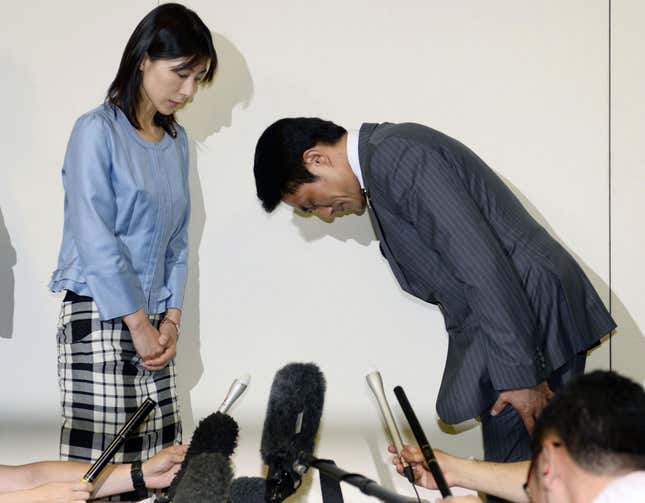 The public wants the hecklers to come forward (one finally has, five days after the incident). Both the outrage and the timing of this LDP boorishness are remarkable. The fact that Abe's men are behaving badly just as the PM rolled out his "Womenomics" plan to encourage women to join the workforce—complete with a corny, mildly offensive website encouraging women to "Shine!"— hints just how far Japan has to go before its male leaders get a clue.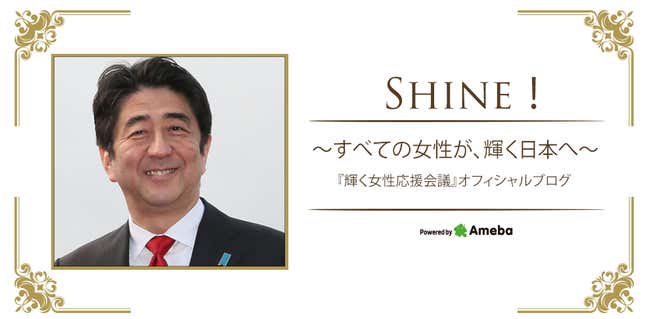 Given what happened to Shiomura, it seems fitting that while Abe's trying to convince women that he and his party leaders want them to "shine!"—whatever that means—Japanese women are busy booking out karaoke parlors to sing "Let It Go" (one of the three different versions released in Japan—or, more likely, all of them).
"In particular, 'Let It Go' has struck a chord in Japanese people's hearts and emerged as a cheer-up song for women," Akio Doteuchi, a researchers at NLI Research Institute, told the Japan Times.
But while it's inviting to read Japanese women's love of Frozen as a sign of the country's budding feminism, its popularity might have more to do with the music. Disney's choice of Japanese starlets Takako Matsu and Sayaka Kanda to play Elsa and Anna, respectively, in the Japanese dubbed versions was a masterstroke. Praise seems pretty universal: Japanese women love Takako and Sayaka's voices. Even among women who didn't like or bother to see Frozen, the songs sung by both women are huge hits, dominating karaoke playlists.
It may well be that Matsu's mezzo is the main driver of Frozen's $235.8 million in ticket sales, and not newly empowered females. It's hard to tell. But though Disney's Japan marketing was clearly clever, it wouldn't have made sense without having two commanding female lead characters (and casting those roles well). In both those strategies, though, Shinzo Abe and his LDP have a lot to learn—but particularly the latter. In July's parliamentary election, the LDP is fielding nine female candidates out of 79, roughly 11%. Hardly a party for the Frozen era. After all, if there's one thing the film's success has shown it's that when it comes to starring roles, Japanese women sure do like hearing their own voices.