Times are tough in Greece, and that means that people are cutting back on a wide range of things, including vacations. A quarter of Greeks said that they don't plan to go on holiday this year, according to a survey we covered before.
Now, new data on actual spending by tourists (pdf) adds some nuance to the picture. When Greeks do go on vacation, they make it count. Their average trip lasts longer than a week, the most in the European Union. At the other end of the scale, Latvians take just over three days per trip, on average: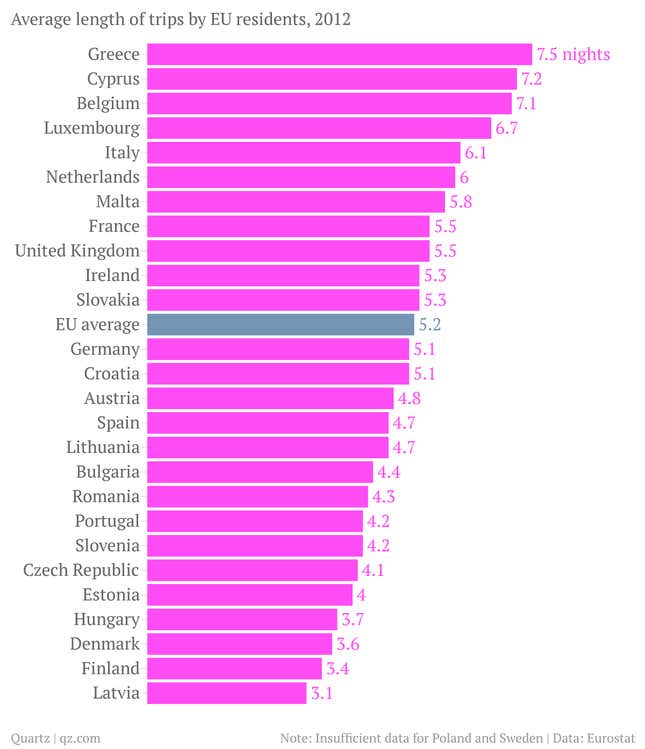 As could be expected given the state of the economy, a smaller share of Greeks have been able to take time off than their counterparts elsewhere in Europe. Thus, the numbers reflect fewer but longer trips for the average Greek traveller. And Greeks are pretty frugal when they're on the road, spending €206 ($281) per trip, versus the EU average of €335. This is thanks in part to the fact that more than 90% of trips by Greeks are within Greece itself, which cuts down on transport costs. (Even excluding the cost of travel, Greeks spend far less than the EU average.)
Europeans who roam further afield tend to spend more on trips. Many, in fact, make their way to Greece—the recent uptick in tourist spending is one of the few bright spots for the country's otherwise shaky economy.