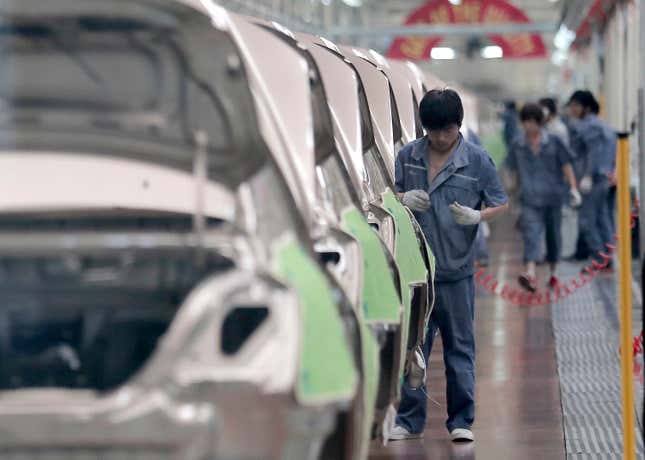 Chinese manufacturing improved last month, but don't get out the champagne as yet—it is only a single month of data, and it was a mixed message at that.
The much-watched Chinese purchasing manager's index (PMI), which economists use as a measure of manufacturing growth or contraction, edged up in October, according to announcements Nov. 1. Given that much of the world relies on Chinese growth for its own financial well-being, a sign of improvement in the country's slowing economy would be welcome.
However, there are two PMI indices, and they differ. The official government PMI showed that China's manufacturing sector started growing again last month after two months of decline, rising to 50.2, from 49.8 in September (the number 50 is the dividing line between contraction and growth). And while the competing HSBC PMI also had an improved number, it showed that Chinese manufacturing is still contracting; its number went to 49.5, from 47.9 in September, and has now been below 50 for 12 months in a row.
HSBC economist Hongbin Qu said the numbers were a positive sign. "October's final PMI rose to an eight-month high, implying that China's industrial activity continues to bottom out following a modest pickup last month," Hongbin said in a statement. "This is mainly driven by the increase of new orders, thanks to the filtering-through of the earlier easing."
But other analysts disagreed. Patrick Chovanec, a business professor at Tsinghua University, says the results do not mean that China's economy is bottoming out. We "need to see more consistent trend evolve." Chovanec told me in a Twitter exchange. "And HSBC/official PMIs are just two data points. Many other data points needed to make a compelling rebound narrative." The Financial Times also points out that when you look at the individual components of the PMI, it's a mixed picture.