This post has been corrected. 
Now that June—currently the most popular month for weddings in the US—is over, we took a breath from attending matrimony-related rehearsal dinners, cocktail hours, ceremonies, receptions, and brunches to nurse our collective hangover and compare the fiscal damage of an American wedding today with a Depression-era celebration 80 years ago.
What we found is that the US has loved to spend a lot on wedding celebrations for the better part of a century (which may be why Steve Martin's opening monologue in the highly enjoyable 1991 film Father of the Bride was nearly identical to Spencer Tracy's 1950 version—and still rang true).
We compared two sets of numbers: one from the wedding-planning website the Knot's 2013 "Real Weddings" survey of nearly 13,000 brides, and the other a 1939 study published by B.F. Timmons, a sociology professor at the University of Illinois, "The Cost of Weddings."
Timmons' sample size of 154 couples married between 1934 and 1939 was admittedly smaller than the Knot's, but the professor asserted that his findings were "fairly good approximations of wedding expenditures," indicative of cultural practices in American middle-class weddings at the time. Meanwhile, the Knot's survey may skew more expensive, since those who find their way to the site are likely to be seeking guides to retail services, which it offers along with advertising.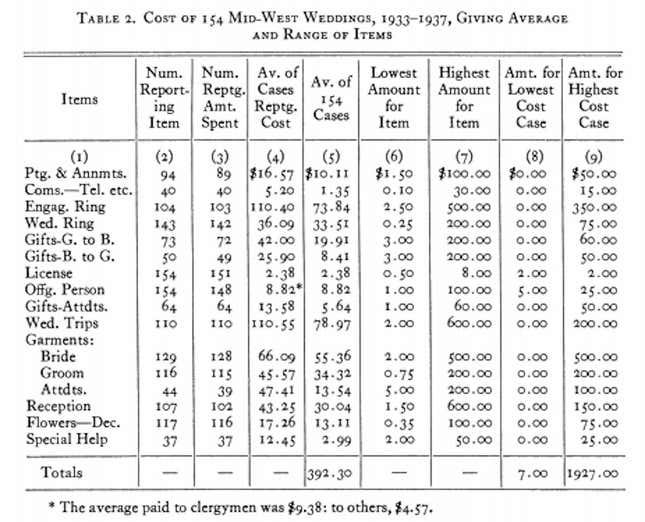 While 2013's average wedding price tag of $29,548 is pretty staggering, Depression-era couples in the US—when unemployment hovered between 17% and 20%—were no slouches either when it came to wedding spending. The average 1930s spend of $392.30 ($6,481 in today's dollars, adjusted for inflation) may sound modest, but it was worth one quarter of household income back then (pdf). Today's costs are closer to half.

In fact, some of the expenses at last year's weddings were strikingly similar to those of the 1930s weddings, once adjusted for inflation.
All dressed up
Brides surveyed in the 1930s paid just a little less on average for their dresses: $1,092 in today's dollars, compared with the 2013 brides' average of $1,281. The groom's suit—which rings up at an average of $248 today, has actually come down in price from a whopping $753 in 1930 (adjusted for inflation). This probably says more about the prices of mass-produced clothing—which dropped thanks to standardization and cheap overseas labor—than about the spending tendencies of engaged couples.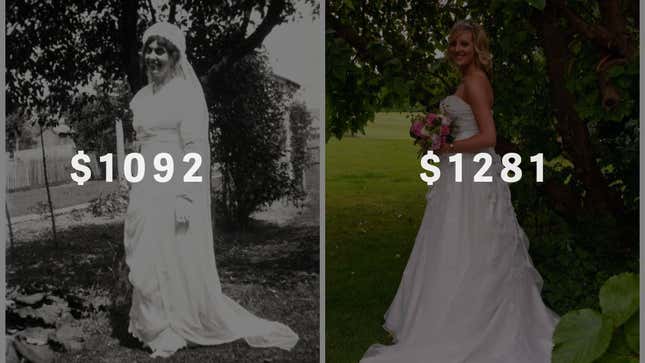 "In spite of industry rhetoric of their uniqueness, most bridal gowns are not actually made to measure," writes Rebecca Mead in her 2007 book, One Perfect Day. "Rather, they are mass produced according to the orders placed with overseas factories, before being shipped to the stores for alteration." (They don't show that part in Say Yes to the Dress.)

Put a ring on it
The average price of an engagement ring, however, has shot up. In 1939, only about two-thirds of the couples polled reported having bought one at all. The average price of those purchased was about $1,824 in today's dollars. A diamond rush in South Africa in the late 1800s flooded the market, making the stones affordable engagement gifts. In the 1930s and 1940s, De Beers, the mining company that controlled the diamond industry, launched an aggressive PR campaign that sealed the idea into the American conscience that "a diamond is forever" (and directly proportional in size to the love between a couple).
Today, the Knot reports that the average engagement ring goes for about $5,600. (Though some brides-to-be are finally forgoing diamonds for engagement jewels such as blue sapphires, green tourmalines, and midcentury Rolexes.)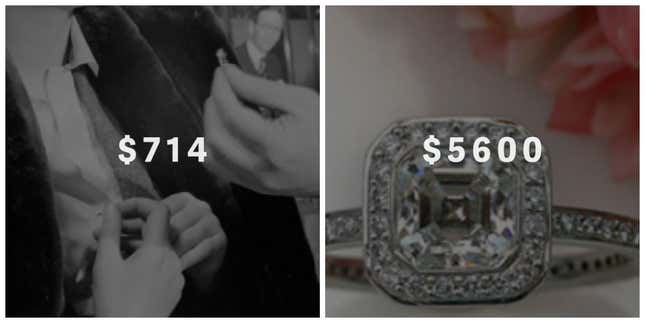 Flowers, favors, floating candles
Party favors, identified as "gifts for attendants" in 1939, weren't very popular back then. Only 64 of the 154 couples polled reported paying for them, but those who did spent an average total of about $224 (adjusted for inflation)—not far off from the Knot's 2013 average of $281. The cost of invitations rang up at $443 in 2013—also not terribly different from the $360 (adjusted) in 1939, to which we added the cost of communications such as telegrams.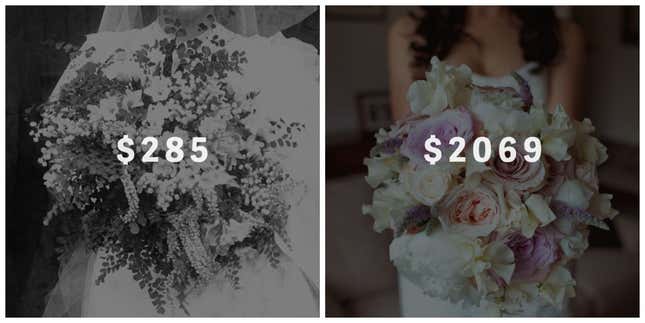 Flower prices, however, have grown significantly. In the 1930s, the average reported price for flowers and decorations would come to $285. The Knot's 2013 brides spent about seven times that amount, at an average of $2,069.
What about a social media coordinator?
No one in Timmons' 1939 study raved about their wedding planner, but a quarter of the couples did report paying about $205 (adjusted for inflation) for "special help." Only 70% of the 1930s couples reported holding a wedding reception, and those who did said it cost an average of about $714 in today's dollars.
As anyone who recently attended a wedding in the US can attest, receptions now make up the bulk of a wedding's cost. The Knot didn't provide a total number for the average price of a reception, so we aggregated one ourselves, including the Knot's average costs for the photographer, planner, catering, venue, band, and wedding cake: $30,882.
Hope those old-timey signature cocktails are stiff.
Correction (July 2): An earlier version of this post incorrectly stated the unemployment rate during the Great Depression.