BNP Paribas's "tour de fraud" will cost the French bank $8.97 billion in penalties imposed by various US authorities, it announced late yesterday. The settlement is one of the largest on record, and by far the biggest for violating US sanctions against countries like Cuba, Iran, and Sudan.
As has become standard in these cases, eye-opening messages between bank employees have came to light during the investigation, including wire-transfer instructions like "ATTENTION: US EMBARGO."
Unlike in previous sanctions-busting settlements, BNP Paribas pled guilty to breaking US laws and will be barred from dollar-clearing operations for 12 months in some business lines. At the New York financial regulator's request, more than 50 employees were sacked or disciplined at the bank. Jean-Laurent Bonnafé (pictured above), who joined BNP Paribas in 1994 and became CEO at the end of 2011, will stay in his position.
According to the US Department of Justice, between 2004 and 2012 the French bank handled $8.8 billion in transactions for sanctioned regimes, primarily Sudan. The New York Department of Financial Services puts the figure much higher, at $190 billion in concealed transactions between 2002 and 2012. Whatever the case, the penalty represents a windfall for some of the agencies involved:
BNP Paribas first warned the markets that a penalty could be looming when it reported quarterly earnings in mid-February. Since then, its share price has sunk by around 15%. But in trading so far today, the bank's shares have gained nearly 4%, inverting the trader's maxim—sell the rumor, buy the news.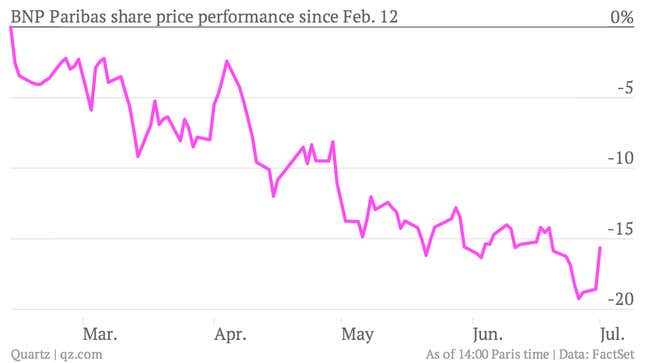 Investors have been running the numbers, and despite the size of the penalty, the impact looks manageable. The settlement will dent the bank's capital buffer, dropping its Tier-1 ratio to around 10%, which is roughly the same ratio as at its French rival Société Générale. BNP Paribas will maintain its dividend this year at the same level as last year.
Having already set aside some provisions to cover a potential fine, the bank will book a charge of €5.8 billion ($7.9 billion) in its second-quarter results. At the rate it generated pre-tax profit in the first quarter, it would take the bank three quarters to reverse this charge. That is, unless the damage to its reputation—as yet unquantifiable—causes customers to abandon it.