Updated with statement from T-Mobile. 
The US Federal Trade Commission has just accused T-Mobile US of harvesting "hundreds of millions of dollars" in bogus charges from customers for "premium" text message services offering unsolicited and expensive flirting tips, horoscopes and celebrity gossip.
The regulator alleges, in a fairly explosive release, that T-Mobile continued to bill many customers for these services, which are provided by third-party companies, for years, even after it was aware they were fraudulent. It claims that T-Mobile's billing practices made it difficult for consumers to detect that they were being charged for the services.
In a response on its website, T-Mobile has dismissed the FTC lawsuit as "unfounded and without merit". It claims to have stopped billing for these services last year.
The full complaint suggests that all this was going on until "at least December 2013″—which doesn't jibe well with T-Mobile's promise of simplified, transparent plans. Those plans, which don't lock customers into long contracts and separate the cost of handsets from data usage (The New York Times called them "blindingly sensible"), have helped the company to lure subscribers away from rival mobile carriers in recent quarters.
The practice T-Mobile is alleged to have engaged in is known as "cramming." The FTC included what it says is an example of an actual bill, which offers a glimpse of how that works.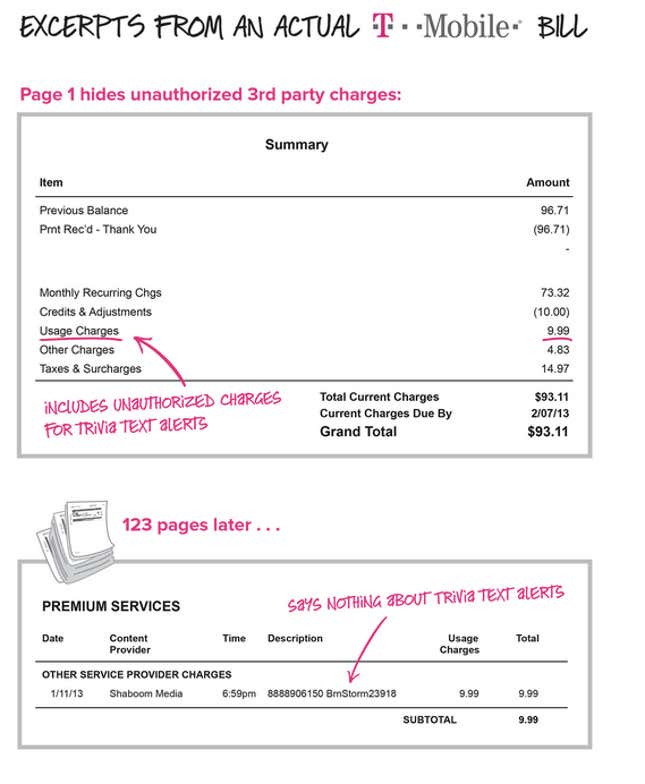 And it doesn't stop there.  T-Mobile US's foul-mouthed and flamboyant chief executive, John Legere, has won praise for his unconventional tactics and consumer-friendly stance since taking the reins in September of 2012. But he also has run into difficulties lately. Last week, employees complained about his use of language, after Legere said rival carriers AT&T and Verizon had been "raping" their customers. He has already apologized for that.
All of this takes place against the backdrop of a likely takeover of T-Mobile (which is majority-owned by Deutsche Telekom) by its rival Sprint (which is majority-owned by the Japanese telecom giant Softbank). Regulators already seem nervous about that deal, and this is unlikely to help.