After the United States, the market with the most Facebook users is India. Yet India contributed less than a quarter of 1 percent of Facebook's global revenue in the year to March 31, 2013. This week, Facebook's operations boss Sheryl Sandberg is in India talking to companies, the press, and government officials in an effort to drum up some business.
And back in Silicon Valley, Facebook's engineers are unveiling an ad innovation that they hope will help her make the case: the "missed call."
No one in India—or much of the developing world—needs an explanation of the utility of a missed call, but for those in the West, here's how I described it in a piece published in June:
Missed call communication is when you call someone but hang up as soon as it rings. The idea is to send a simple, often pre-agreed, message without having to pay for the call: "I am waiting outside" or "Deliver some milk" or "I vote for this candidate on Indian Idol."
Facebook's big idea is to include a "missed call" button in ads on mobile phones in India:
When a person sees an ad on Facebook they can place a "missed call" by clicking the ad from their mobile device. In the return call, the person receives valuable content, such as music, cricket scores or celebrity messages, alongside a brand message from the advertiser — all without using airtime or data.
This is not a novel approach. The Indian arm of Unilever, a consumer-goods giant, has been running a similar promotion that allows people to make a missed call to trigger a return call that plays a radio station with Unilever ads. Indian talent shows have also long used missed calls to allow people to vote for contestants, instead of requiring them to dial a premium number.
But Facebook reckons it can bring an added layer of sophistication to the tactic by allowing advertisers to narrow their pitches to users based on location, age and "life stage," which it describes as "targeting to new moms and dads; or people who have started a new job; or retirees."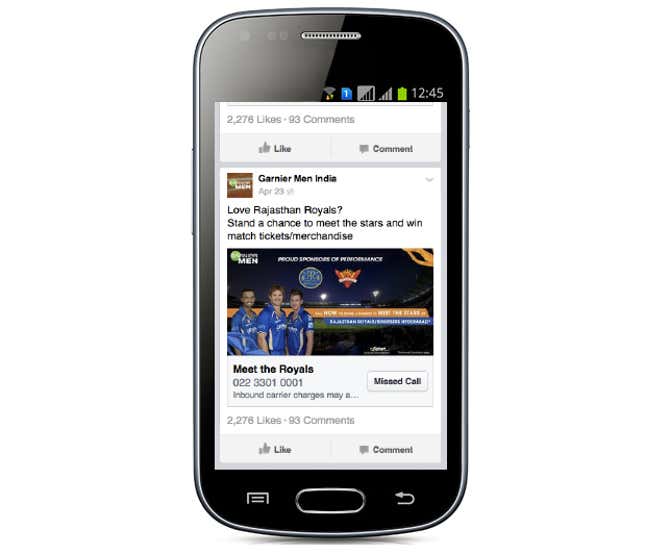 There remain two problems. The first is measurement. As Quartz has reported on previous occasions, Facebook's big challenge in poor, high-growth countries isn't just finding advertisers and distributing ads, but also measuring the effectiveness of those ads. Facebook is working with the audience measurement company Nielsen to provide advertisers with "greater tools to measure brand sentiment, purchase intent and ad recall," on mobile as well as desktop, writes Kelly Maclean, who works in emerging markets ads products at Facebook. That's vague enough to sound good, but veteran media buyers would tell you that nobody has yet cracked the code of measurement, even in the West where data sources are much more abundant; and let alone in the poor world.
The second problem is a bigger worry, at least for consumers. With internet advertising blurring the lines between ads and everything else, and with companies big and small trying to get users onto their platforms for the express purpose of showing them ads, the "next five billion" people that Facebook wants to get online may experience a degraded, entirely corporate web that offers very little apart from exhortations to buy.
Moreover, Indians in particular are already bombarded by advertising in every medium—including on handles in local commuter trains, on the backs of seats in local buses, and in newspapers masquerading as editorial content. As they become inured to this advertising onslaught, it's that much harder to attract their attention. Those businesses that Sandberg is wooing in India may want to see something flashier than a missed-call button.