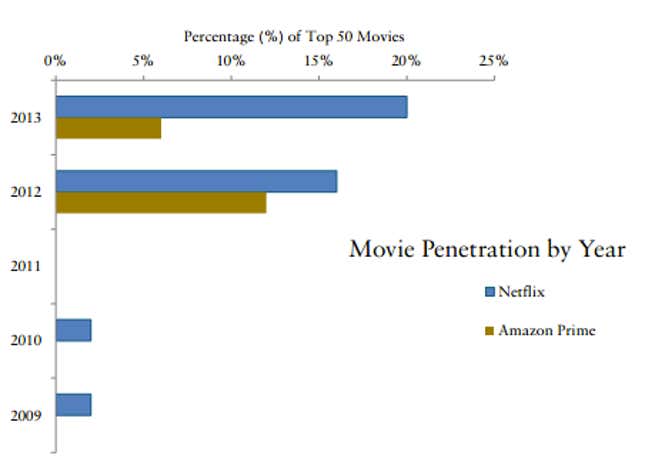 If you are in the US and looking to stream a movie this Independence Day weekend, Netflix still has the most comprehensive library. But if TV, particularly recent shows, are more your thing, then Hulu is actually the best bet.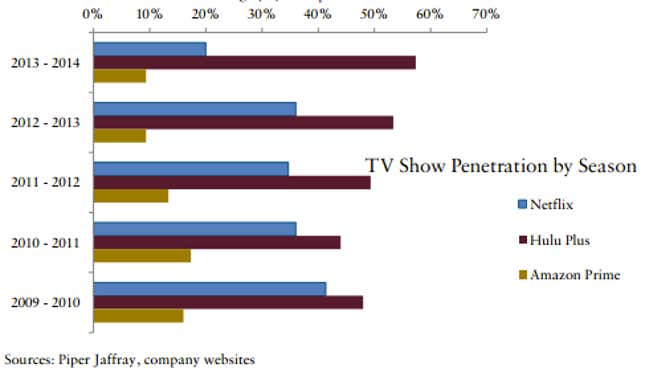 On balance, Netflix seems to have the best mix, which helps explain why it is easily the biggest streaming video service, in terms of subscribers. But the above charts, which come from Piper Jaffray analyst Gene Munster, also shed light on Amazon's evolving strategy in the space.
Amazon is closing the gap, to an extent, on Netflix in TV shows, Munster says—and indeed, Amazon's site features a "not on Netflix" list of TV shows. Every movie Amazon has is also available on Netflix, Munster says, but the same is only true of half of its TV shows. The e-commerce giant's TV show catalog remains inferior to Netflix's, but Amazon is going "in the right direction," by focusing on TV rather than movies, he argues, particularly its own original shows. Netflix has been getting a lot of attention for its original shows, including House of Cards and Orange is the New Black, and it has at least ten more series debuting this year.
Amazon has been flying under the radar in streaming video, but it will also release nine original series this year. A hit show would certainly boost awareness of its streaming video products—which is currently pretty dismal. "We wonder whether consumers, let alone Amazon Prime subscribers, even realize that this content is available on Amazon Prime," wrote another analyst, BTIG's Rich Greenfield earlier this year.
At the end of the day, you get what you pay for. Amazon's streaming video is an added perk for subscribers to Prime, the premium delivery service, which now costs $99 a year for unlimited free delivery of shopping items. Following a widely telegraphed price hike of its own, Netflix's most common package now works out to about $108 a year—for movies and TV shows alone.