Last year, Apple poached Angela Ahrendts, the CEO of Burberry, a British purveyor of luxury-goods. Today, Apple added a senior sales director from Tag Heuer, a Swiss purveyor of luxury watches, CNBC reports, citing Jean-Claude Biver, the head of watch brands at LVMH, a company that owns lots of luxury-goods makers. They did not name the sales director.
The plan, an analyst at Bernstein told CNBC, was to get some help in marketing its watches as "Swiss made," though the report didn't mention whether that would involve assembling the product in Switzerland. (It is possible, considering there have been no leaked images, unlike the constant stream of pictures claiming to show prototypes of the iPhone 6, which are thought to originate in the supply chain in China.)
But more important is the choice of a man Tag Heuer over other makers of luxury goods. There appear to be two reasons. First, Tag Heuer is better known among people who aren't luxury-watch buyers than many of its more expensive and more exclusive competitors. That has a lot to do with the company's aggressive marketing and advertising. Tag Heuer sponsors the McLaren Formula One team, and uses local celebrities to endorse its watches on billboards in both rich countries and, crucially, poor ones.
Second, Tag Heuer isn't just a watch company. Like Burberry—and, some might argue, Apple—it is a luxury goods company. Tag Heuer was one of the few Swiss watchmakers to realise that as people increasingly ditch their watches for phones, it may as well join them. It sells its Meridiist range of (not terribly smart) phones for $5,000 and up. "For decades, a beautiful watch was the most personal product on a person's body – in the 21st century, that became the phone," Christoph Behling, TAG Heuer's chief designer and the man who made its phones, told the Financial Times (paywall).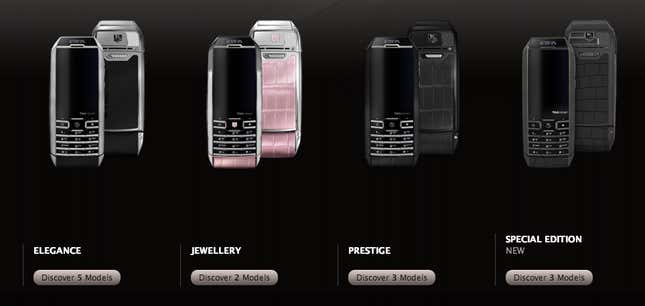 There's more. Tag Heuer apparently considered building its own smart watches as well.  Stéphane Linder, the CEO of the the company, told the FT in March:
"I had my technicians buy some smartwatches to see what they were like, but the interface is not yet that good, and you need to have your phone nearby. And the idea of having to charge luxury watches kills the dream a bit," says Mr Linder. "At the moment, it seems like a lot of hassle for little benefit."
But with Apple building the product, the woman who turned Burberry around in charge of retail, and with a veteran in flogging expensive watches helping sell it, the so-called iWatch may have a chance yet.