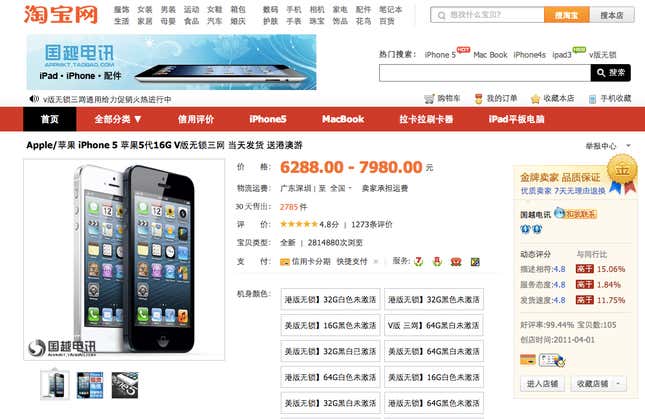 eBay is trying to come back into China. The online auction site has teamed up with one of China's biggest luxury and fashion online shopping websites, xiu.com, according to a report naming sources that says an announcement will be made this month.
This is eBay's second effort to break into China. In 2003 it acquired what was then the dominant Chinese auction site, EachNet, but was quickly beaten out of the market by an upstart local competitor, Taobao, formed that same year. The owner of Taoabao is Alibaba Group, whose CEO, Jack Ma once said, "ebay may be a shark in the ocean, but I am a crocodile in the Yangtze River. If we fight in the ocean, we lose—but if we fight in the river, we win."
So how will eBay's partnership fare this time? It's worth a look at why it failed before.
Though late to the game, Taobao was able to undercut eBay by not charging users a fee to list their products (as EachNet did). There were cute cultural references, like naming the moderators on Taobao after characters from popular Chinese kung-fu novels. Another handy tool described in one paper on Taoboa's reason for success (pdf, p.202) was the Taobao Wangwang, an instant-messaging service that lets users and sellers communicate. Taobao now commands more then 75% of the Chinese online market.
Taobao provides a resource for small businesses. Owning a Taobao shop is almost a national hobby, especially for young people with dreams of creating a startup. A study between Peking University and Aliresearch found that 80% of store owners on the site were born between the years 1981-1994 (Chinese typically name people's ages by what year they were born). These same young Chinese people are the ones who are plugged into the internet and anticipate the goods that Chinese consumers want.
Taobao is also very good at providing what Chinese consumers want: not just the usual supply of counterfeit bags, clothing, smuggled iPhones, and other gadgets not yet on sale on the mainland, but weird things like paper bags and empty boxes from luxury stores, empty Chateau Lafite wine bottles, or a service that allows you to make your account on QQ, a popular messenger service, look as though you are typing from an iPhone.
However, a common complaint about Taobao is that customers get scammed (paywall) and often end up with fakes. Internet forums, including Alibababa's customer service page, are filled with complaints about Taobao fraud. Not all Chinese online shoppers are looking for the real thing, but eBay may be able to get a slice of the pie from the growing wealthy who increasingly want and will pay for high-end imported products. eBay's partner, Xiu, will reportedly curate the products (paywall) and deal with payments, customer service and regulation. Whether that can equip the eBay shark with crocodile's teeth remains to be seen.