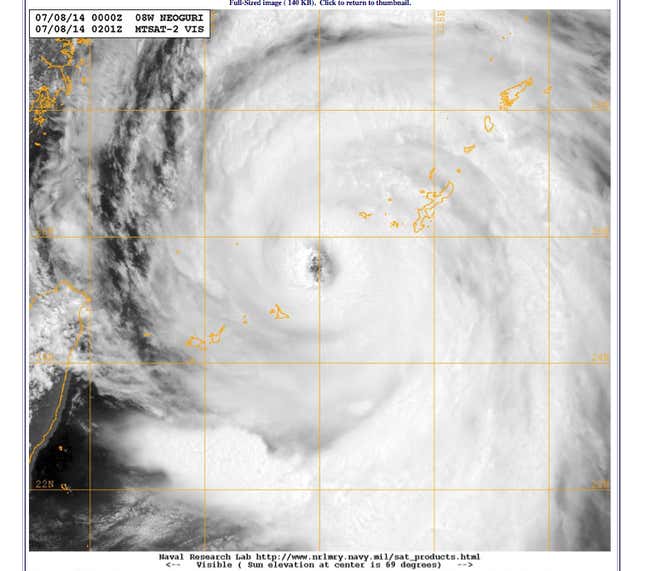 Typhoon Neoguri weakened from super-typhoon status between Monday night and Tuesday morning in Asia, but still packed winds up to of 110 knots (204 kmh or 126 mph). The storm is expected to weaken as it passes over an island with two active nuclear facilities, and the good news is that despite some alarmist news coverage, the chances of a Fukushima-style crisis appear to be low.
The Okinawa island chain, where more than 100,000 people were urged to evacuate to higher ground amid an "emergency warning" and an oil refinery closed, may also be spared the brunt of the storm, which is currently passing between the two southern island chains, according the US Navy's Joint Typhoon Warning center in Pearl Harbor: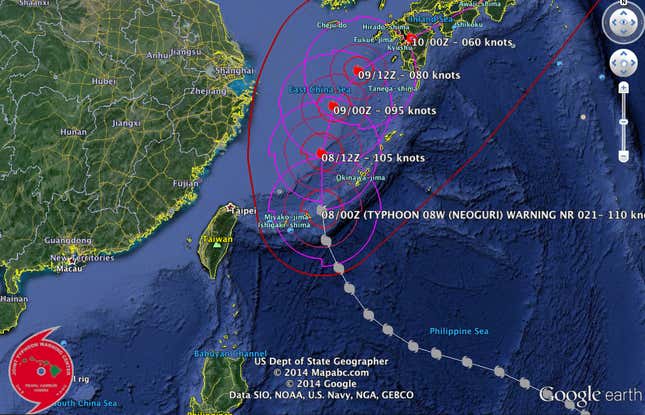 That's not to say the storm isn't powerful. Okinawa is being lashed by heavy winds and driving rain, according to first-person videos uploaded on Youtube. Schools and businesses are shut and waves over 10 meters high are expected.
Further south, the storm's center also missed the southern Miyako islands, where thousands of people had been urged to relocate out of the way of high waves:
The center of the storm is still expected to pass right over the island of Kyushu, though, where there are two active nuclear plants, which have been shut in advance of the storm. Because the plants have been shut down, the typhoon is unlikely to cause any radioactive release,  Gregory Jaczko, former chairman of the U.S. Nuclear Regulatory Commission, told Bloomberg.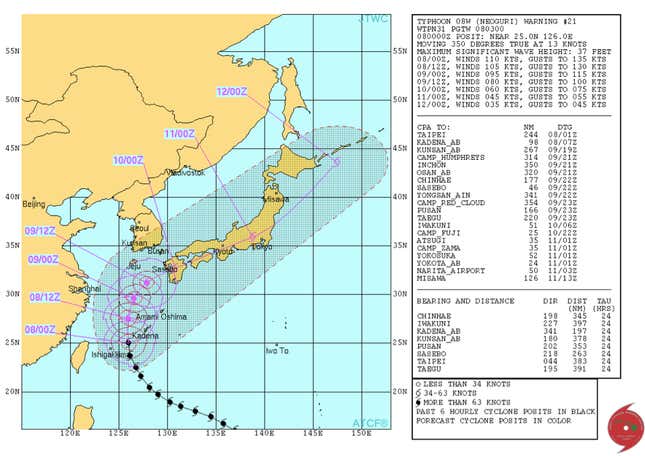 At the point the storm hits Kyushu, the most recent US Navy report shows, the highest winds are expected to be only 60 knots (69 mph), still strong but not unusual for Japan's typhoon season.