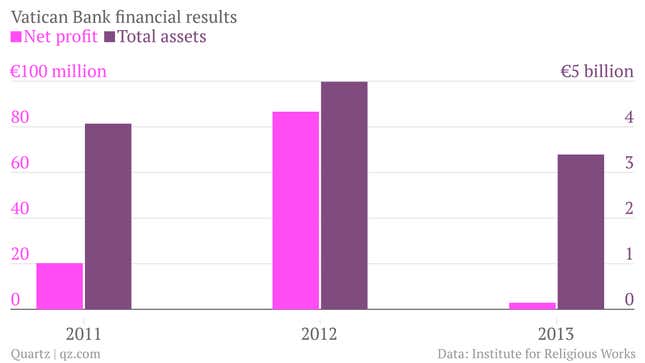 The numbers: Diabolical. The Vatican Bank, officially known as the Institute for Religious Works, today reported a €2.9 million ($3.9 million) net profit in 2013 (pdf), down sharply from €86.6 million the year before.
The takeaway: The plunge in profit was intentional, with earnings eroded by the costs of a major clean-up at the scandal-prone bank (paywall). Pope Francis reportedly considered shutting the bank down, but instead a new management team called in consultants to clean up its books, terminating 3,000 accounts, writing down the value of certain investments, and dumping a wide range of assets at a loss.
What's interesting: Unaudited results for the first half of this year showed a profit of around €57 million, the bank said, but this doesn't mean a return to business as usual. A press conference tomorrow will detail the next phase of the institution's overhaul, which is expected to include more management changes and even deeper downsizing. The bank will also shed its asset-management arm, which is at the center of a long-running investigation into money laundering (and a key contributor to its profit), according to the Financial Times (paywall). Instead, the bank will only provide payment services to people and groups directly connected to the church. "St. Peter didn't have a bank account," Pope Francis has said, revealing the humble role he has in mind for the Vatican's financial arm on his watch.