When Hong Kongers held an unofficial referendum last month to call for democratic reforms, Beijing branded it as "illegal" and Chinese state media called it "mincing ludicrousness." Now residents of Macau, China's other special administrative region and the world's largest center for gambling, are planning an unofficial referendum of their own.
Like Hong Kong, Macau is governed by a chief executive chosen by an election committee that critics say is largely pro-Beijing. Unlike Hong Kong, Macau has been mostly apolitical since the city's return to Chinese control in 1999. (For instance, while a proposed national security law prompted half a million people to protest in Hong Kong in 2003, a similar law was approved easily in Macau in 2009.)
But now the Macanese, angered by growing inequality and an influx of migrants from the Chinese mainland, are becoming more politically active. In May, Macau's chief executive withdrew a bill that would grant officials lavish retirement packages after more than 20,000 protesters took to the streets, the city's largest march since its handover. The referendum, to take place August 24-30, will ask respondents if they want universal suffrage and whether they support the city's current chief executive, Fernando Chui, who is running unopposed for re-election next month.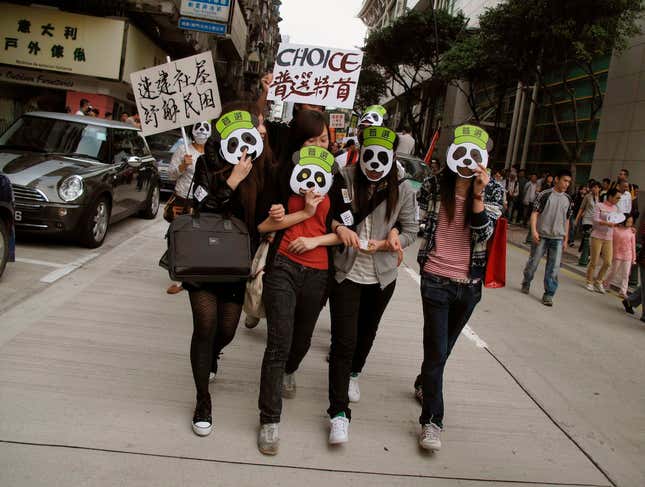 The danger for the former Portuguese colony is that its economy depends almost wholly on mainland China. Revenues from tourists, mostly mainland Chinese, coming to gamble in the city account for almost half of its economy. With only 30 square kilometers (12 square miles) of territory, Macau has little arable land or other resources, and relies on China for food, water, and energy.
Moreover, while the language of Hong Kong's basic law, a kind of mini-constitution for the city, includes provisions for universal suffrage, the term does not appear anywhere in Macau's basic law.
So far, organizers expect more than 20,000 people to participate in the vote. Organizers of Hong Kong's referendum in June, which saw over 700,000 voters, had anticipated a lower turnout until Chinese authorities published a white paper that furious Hong Kong residents took as a sign of Beijing's intentions to undermine Hong Kong's independence. If Beijing responds to Macau similarly, city officials and referendum organizers can expect to see more dissent.