Al Shabaab, the brutal Islamic militia, today stormed and captured at least part of the presidential palace in the Somalian capital of Mogadishu, according to some reports. The lightning move, taken two days after a deadly attack by the group in Kenya, points to a new surge of Islamic extremism, carried out by a movement that has metastasized and wreaked havoc.
In the Middle East and both coasts of Africa, we are seeing a critical mass of ultra-radicalized, post-Pakistan outgrowths whose tactics in some ways exceed al Qaeda's. In Nigeria, troops are battling Boko Haram, which has been on a deadly rampage for months. In Iraq and Syria, ISIL threatens to break apart the region.
Now in east Africa, al Shabaab has revived itself three years after Kenyan and other regional troops ejected the group from Mogadishu and pushed it to near-obscurity. Al Shabaab since unleashed a series of large bombings in Kenya, including a horrific attack at a Nairobi shopping center last September that killed about 70 people.
This part of east Africa—Somalia, Kenya and on down to Tanzania and Mozambique—is currently a magnet for oil companies that are creating another center of gravity for petroleum drilling.
Here's Reuters' mapping of the geography and chronology: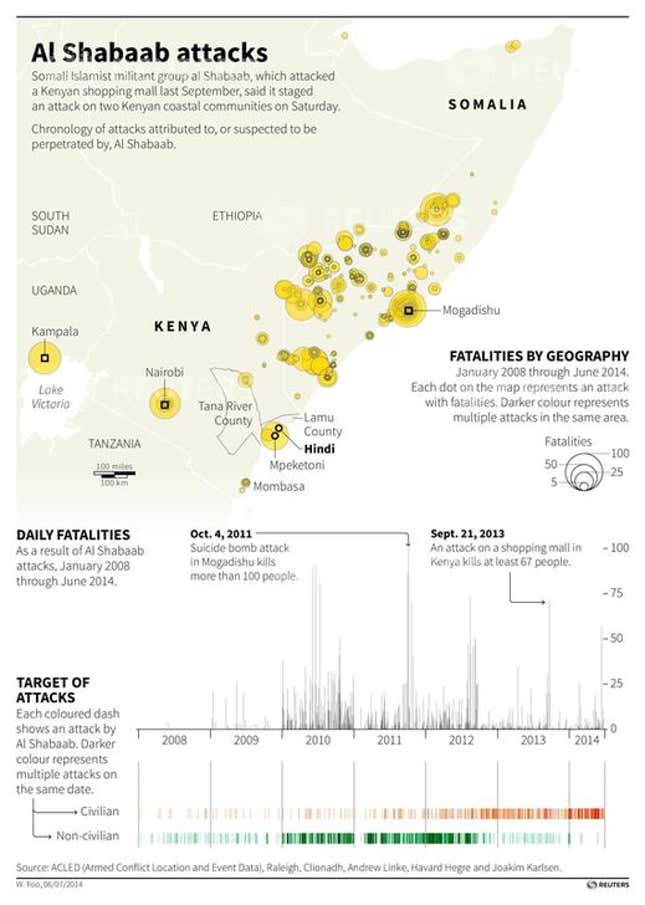 There is no telling whether al Shabaab can hold the palace. But to the degree that it is successful in creating terror in the region, it can disrupt any attempts by these governments to create a new economic juggernaut for their people.