Quartz tried on 30 pairs of women's white jeans to find The One classic pair to fit, flatter, and live in our closet forevermore.
White jeans rightfully hold a privileged place in the canon of summer fashion classics. Sunnier than blue jeans and chinos and more versatile than a sundress, a pair of white jeans makes a crisp substitute for all of the above—and one that can be worn well into autumn. Consider your go-to combination of blue jeans with a tee, blazer, button-down, or sweater. Then, swap in a white pair. Voila.
"They're such a nice, neutral alternative to denim," says Madewell designer Somsack Sikhounmuong, who has filled the American retailer's stores with summer whites in his first season as head of design, and has more for the holiday season in the works. "They [perform] the same end use, but they're more graphic."
Just think of the women who've famously worn—and wear—white jeans. Stateside, Jackie Kennedy played with little John Jr. on the beach in hers; Ali MacGraw wore them boating in the iconic 1970 film Love Story; American Vogue fashion director Tonne Goodman wears them daily—a chic, fuss-free foil to the high fashion pomp that surrounds her. French Vogue editor-in-chief Emmanuelle Alt is similarly devoted, lending her insouciant sex appeal to the pants with sleek heels and tousled hair. See also: St. Tropez whites, suntanned feet in driving loafers, Breton striped shirts, fashion photographers, and Ines de la Fressange. You get the idea.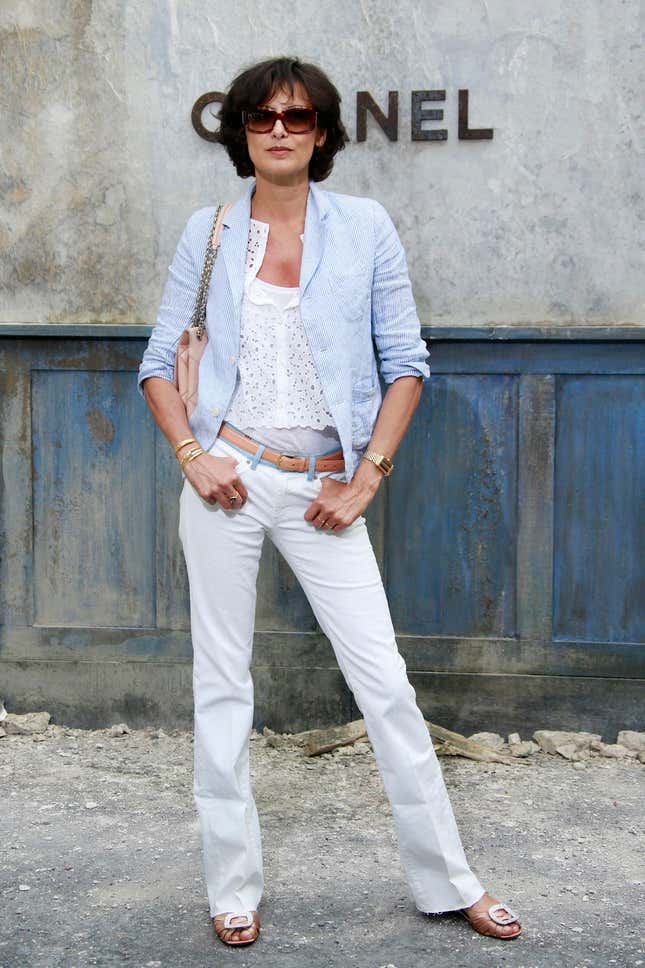 How to wear them
When it comes to dressing with white jeans, Los Angeles-based stylist Jill Lincoln says there are no rules: "I wear them all year long. A great leather belt, ballet flats—you can go anywhere. I'll wear my Birkenstocks during the day, and then switch to brown leather Gucci heels, throw on a navy blazer, and it's a whole other animal. I love the full white look: the white tee shirt and white jeans. That's my jam. I do a lot of laundry."
Play it straight
The fit, however, is a bit trickier. Because white is less forgiving than other colors of denim, Lincoln opts for a slim, slightly relaxed fit.
"It has a nice fit, but it's not like three friends helped squeeze you into your jeans," says Lincoln. "I like to crop all mine, exposing the skinniest part of my leg, which is my ankles. Either cut it off or cuff it. The consensus in fashion right now is looking relaxed and put together—that kind of effortless chic."
"I love a straighter, sort of boy cut, too," says Sikhounmuong. "A slimmer, straight fit just feels a little bit newer to me, in terms of what's been going on in jeans in general. It's sort of a move away from the skintight."
Methodology
Quartz set out on the search for the perfect pair of slim, straight, and flattering white jeans. We tried approximately 30 pairs, and narrowed it down to a single favorite and five runners up. Although we documented quantifiable points such as leg openings and spandex percentages, our methods were largely empirical.
We tried on many pairs of white jeans in unforgiving light—not an exercise in self-esteem. We discussed how they looked on our bodies, and how they made us feel. Our more negative notes included phrases such as "hate rippling," "booty mannequin," and "super meh." Grounds for elimination included legging-style tightness, fabric that didn't resemble denim, utter transparency, and excessive embellishment or distressing. When we found pairs we liked, we wore them, washed them, and wore them again. We considered the following criteria, as well as many others.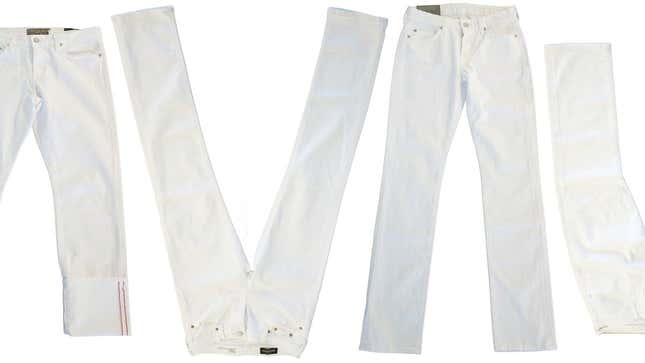 Overall fit. We wanted, of course, a fit that flattered: a straight, polished, slim leg, like the one both Lincoln and Sikhounmuong described. We looked for a classic cut to transcend trend, and so neglected to include any extremes: no wide legs, no super-skinnies, no bell bottoms.
Fabric. We wanted our jeans to have the twill-surfaced, diagonally striped texture of denim. Flat-surfaced, overly stretchy fabrics were offenders, as were those transparent enough to show the details and wrinkles of the pockets beneath—not to mention the patterns on one's underwear. Although stretch denim with high contents of polyester or spandex have recently prevailed in high-end denim, most of our preferred jeans were made of 98% cotton.
Leg opening. We found 13 inches, measured flat, to be a sweet spot for a slim, but not-too-narrow, leg opening. That said, our favorite pairs had a relatively wide range, from 11 to 14.8 inches—and the widest was our winner. More important than the opening at the ankle, we found, was the ease throughout the leg.
Rise and rearview. We liked the idea of a medium rise in the front and back to, as one tester put it, "make the journey over the top" of one's backside (as opposed to exposing underwear when seated). We found that longer back pockets looked best on most bodies, and eliminated several pairs of jeans because the yoke—that seam that traverses the back between the pockets and waistband—sat unflatteringly low.
Extras. In general, we stayed away from overt branding, embellishment, and distressing.
Here are our picks
THE ALL-AROUND WINNER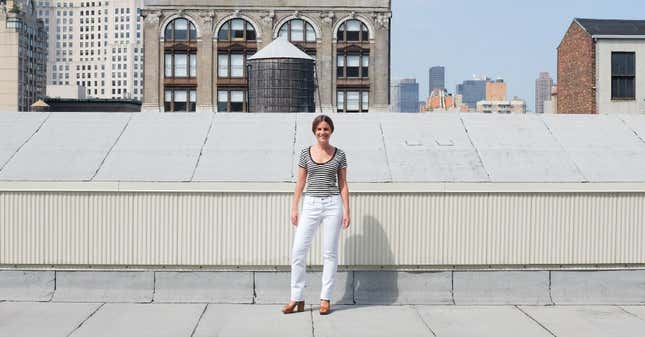 The One white jean: Point Sur Slim Stacker Japanese Selvedge Jean, $238, J.Crew. J.Crew shows this style as a slouchier, easy-fitting style—commonly known as a "boyfriend fit." All of our testers found this jean to be flattering, and even more so when we went down a size.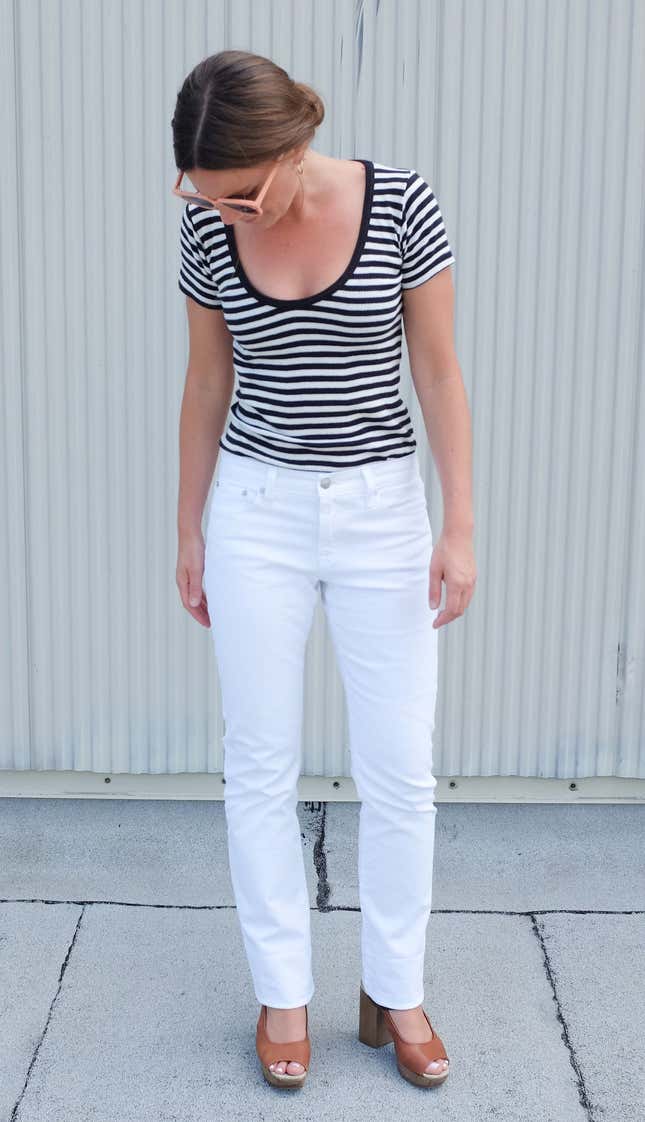 When we sized down, the Slim Stacker acted more like a classic, straight-leg jean (think old school Levi's 501s) than an oversized, borrowed-from-the boys style. The fabric—a blend of 98% cotton and 2% spandex—was among the heaviest that we tried. After trying endless styles of stretch jeans, it felt refreshingly like real denim. That said, it did tend to grow a little bit after a day of wear. On the flip side, it did so evenly, rather than just bagging out at the knees and seat, like some of the more stretchy options.
The leg opening, at a generous 14.8 inches, was the widest of our contenders, but still felt polished. These jeans come long, made to cuff deeply and show off a red selvedge edge. The cuff is cute, but makes them look casual. If that's an issue, hem these for versatility (we turned the hems under for the moment), consider the search over, and move on with your life—in perfect white jeans.
THE RUNNERS UP
The Sexy white jean: Skinny Lin in Organic Shaded Grey, $199, Nudie. Although these jeans—with a curve-hugging cut and a leg opening of just 11 inches—were too tight for some, those of us who liked them, loved them.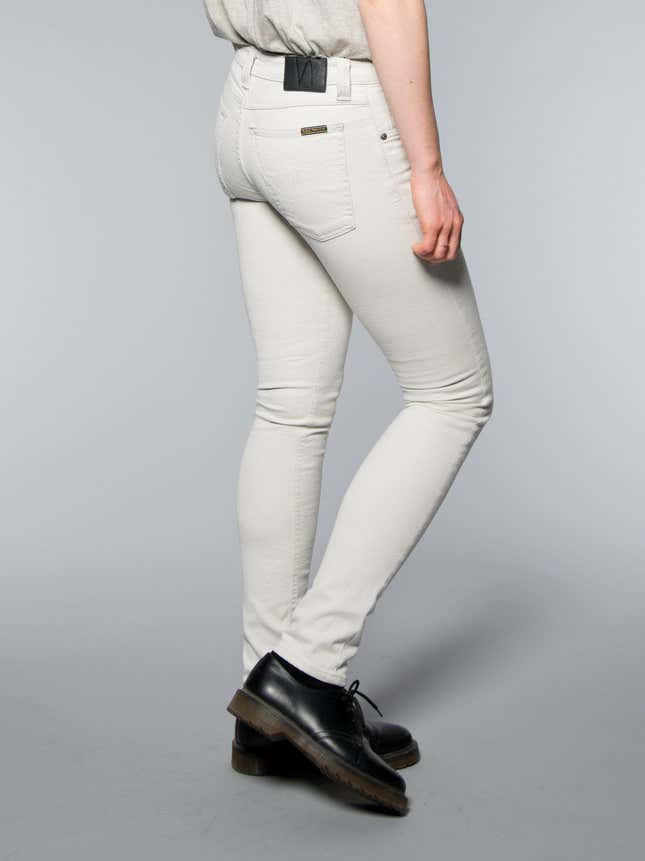 That realization usually happened when we checked out our backsides in the mirror; the Sweden-based Nudie (which manufactures in Italy) wins the gold medal for flattering back pocket shape, size, and placement. The waistband sits high, making these feel more like a pair of retro Calvins than today's saggy, stretchy skinnies. The fabric on these jeans—98% organic cotton and 2% elastane—was satisfyingly substantial with the right amount of give. The heavier weight would make them great for year-round, especially since the narrow leg could easily tuck into a pair of ankle boots. That said, because these jeans were the closest-fitting contender, the bright white pockets really showed through. But that doesn't have to be a deal-breaker: we'd take a pro tip and have a tailor cut out the pockets and sew them shut. Buy one size up in these jeans, and ignore the "shaded grey" color name—these jeans look white.
The Stretch Devotee's white jean: The Dre in Aged Bright White, $187, Rag & Bone. In blue, stretch denim can mask a variety of sins. Not so in white, which may be why only one seriously stretchy pair made our list. In 55% cotton, 42% tencel (a wood-derived cellulosic fiber sometimes called tencel), and 8% spandex, these didn't feel like jeans in the traditional sense—the fabric was soft and light, with tons of give.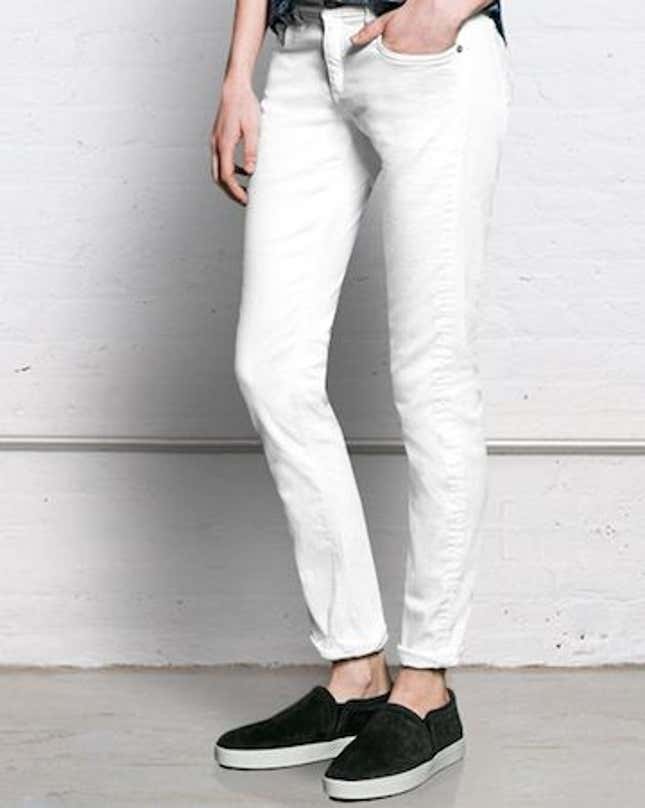 At first try, these looked like skinny jeans, but after a wash and a full day of wear, they stretched out considerably. Rag & Bone markets these as a "slim fit boyfriend" jean, and while we couldn't imagine any of our boyfriends actually wearing them, they did become slouchier (and unfortunately bagged out at the knees) as they softened up. By end of day, they felt too casual to wear with heels—cuffing didn't help. That said, two testers excitedly exclaimed that they "felt skinny" upon pulling these on these jeans. We especially liked the pockets. In front, the pocket bags were made of medium tan, flesh-colored cotton, rather than bright white, which was a genius solution to the aforementioned issue of visible pockets. The back pockets on these were also considerably larger than those on the other stretch options, which we found to be far more flattering. The fabric doesn't feel substantial enough to wear year-round, but for a woman who likes softer stretch denim—and doesn't mind washing her jeans frequently to keep them in shape—they're a solid option.
The Entry Level white jean: 1969 Raw-edge Real Straight Skimmer in Optic White, $23.99 (on sale), Gap. First, a note on length. These jeans—which have a frayed, raw hem—are designed to be worn cropped, as per the photo. We bought them in a size 27L (for "long") and found the resulting 29 inch inseam to be just right for a regular length instead.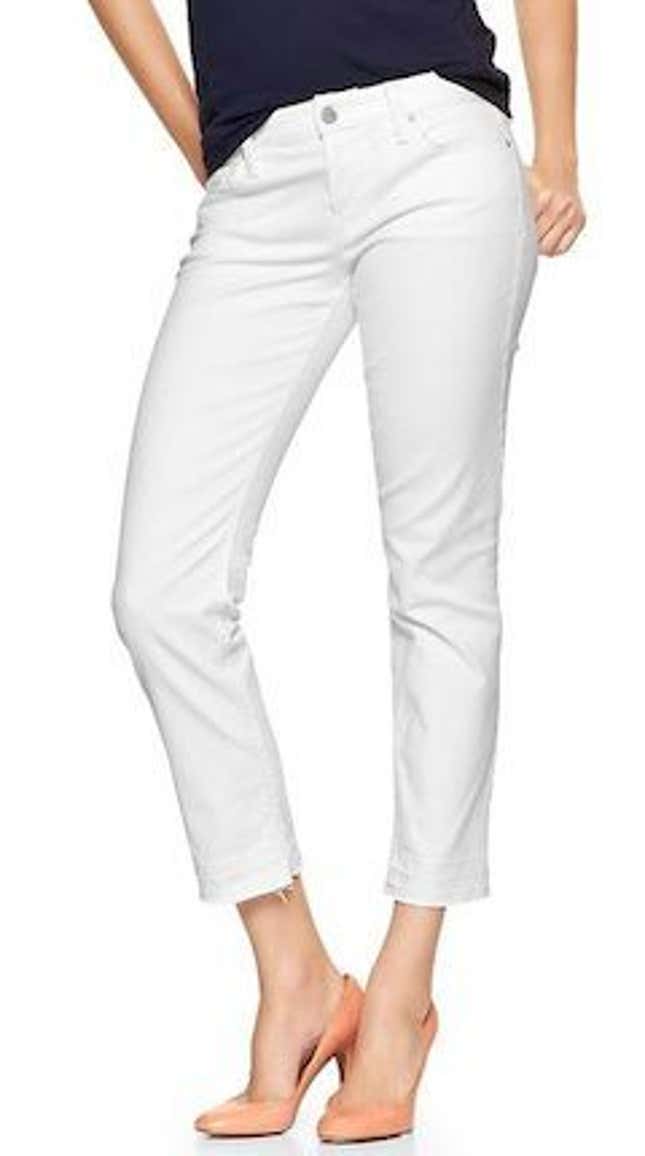 The Gap jeans had the lowest rise of our picks—see that short zipper at left—which bothered some testers. That said, they looked nice with a belt, which helped solve any backside overexposure when seated (just as Saturday Night Live's Gap girls would have advised). The 98% cotton/2% spandex fabric felt surprisingly high quality. Even at a higher price, these jeans would have held their own against the others. The leg opening—that 13 inch sweet spot—was another strong point of the Gap jeans. Some testers disliked the frayed, raw hem, but all were in favor of the slim, but not-to-narrow width of the leg. Between the low rise and frayed hem, these jeans felt like they were designed for a slightly younger customer. But they still looked tidy—and especially cute with canvas Superga sneakers.
The Get 'Em Dirty white jean: Madewell Rivet & Thread Selvedge Boyjean in White Clover, $198, Madewell. Truth: we made several exceptions for these jeans. Oversized and too casual to wear to work—"casual to the point I need to have my feet in the sand," said one tester—this was the pair we would break down and buy even though they didn't fit the bill we originally set out to shop for.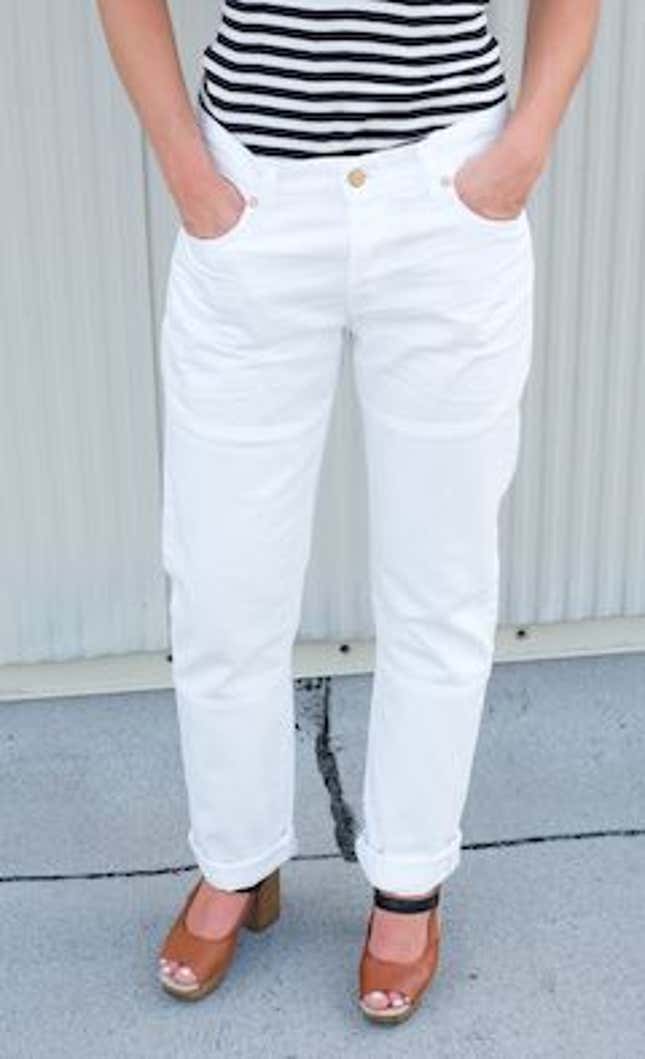 They didn't look especially slim or neat, but after trying on countless pairs of uncomfortable and unflattering white jeans, these felt like a casual relief. If you spilled a little coffee or paint on these pants (which come with a few tiny holes pre-existing on the front), they would be far from ruined; their destiny as Saturday pants would simply be sealed. (Unless you made it a thing and kept going with the paint.)
The copper rivets and buttons won the best hardware award, and made us wonder why most other manufacturers opted for silver. These have some unconventional seams at the thighs and below the knees, and look pretty adorable rolled at the bottom. As one tester said: "This is the Brooklyn jean."
The Blow Your Budget white jean: WM3, custom-made in 12 ounce Japanese selvedge denim, $525, 3×1. At the Manhattan-based denim emporium 3×1, jean lovers can buy jeans ready-made, customize existing styles, and have jeans made from entirely from scratch—a bespoke service that starts at $1,200.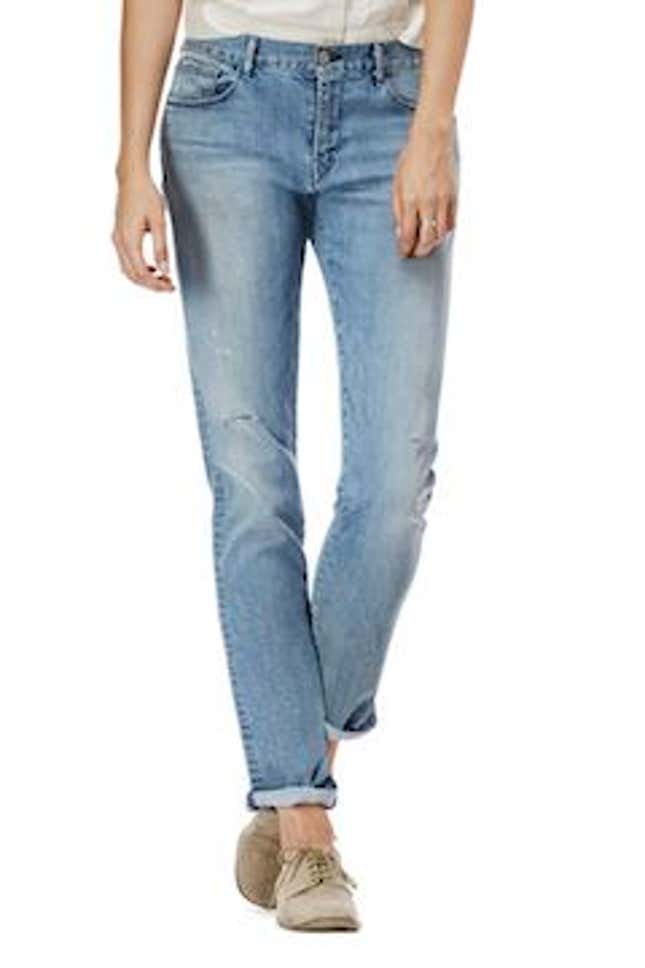 Thanks to 3×1's pre-existing WM3 fit, starting from scratch wouldn't be necessary. The WM3 is the unicorn of denim fits: its contoured waistband curves to rise higher in the back and avoid cutting into the hips, so it flatters the female form, but the ease through the leg mimics a slightly slimmer men's jean, with a 14.5 inch legging opening.
In a perfect world, 3×1 would whip this up for us in 12-ounce, 100% cotton Japanese white selvedge denim with nude pocket bags like Rag & Bone's and copper hardware like Madewell's. We would wear them forever.
*  *  *
With this new series, Quartz will help you sift through the increasingly myriad options for classic wardrobe elements to find the single piece that can be "the one": the one that saves you from another Saturday searching, the one that always looks just right, the one that's always packed in your carry-on. "Buy one and be done," a wise fashion editor once wrote. (It's true she was attempting to justify a $75 tube of lipstick, but we think hers is a great motto for fashion consumption in general.)