You're up next, Bank of America.
As Citigroup nears a deal that could see the bank resolve its lingering US mortgage problems for about $7 billion, according to the New York Times, the focus may soon turn to BofA and its boss, Brian Moynihan. Recent talks between the bank and US Attorney General Eric Holder had been hot and heavy weeks ago, until an impasse amid reports indicating that BofA may be on the hook for a whopping $12-billion penalty.
But a resolution of Citi's problems (at $3 billion less than previously rumored) may bode well for BofA, which has been struggling to dispatch the mortgage baggage that came with its crisis-era acquisitions of the home lending giant Countrywide Financial and the investment bank Merrill Lynch. More than any other bank, BofA has been tarred by the mortgage crisis, and it has already rung up more than $50 billion in legal expenses, according to the bank's public filings.
Any inkling that BofA is close to an agreement would be welcome news for shareholders, especially with BofA set to report its second-quarter results next Wednesday, July 16. Thus far its lingering mortgage problems have been an albatross. BofA reported $6 billion in legal expenses in the first quarter—an unpleasant surprise to industry observers, who had hoped the bank's legal tab was shrinking.
The aforementioned legal expenses include money the bank has paid to cover mortgage legal fees. The firm also has been paying owners of mortgages and mortgage securities, who argue they suffered losses due to shoddy underwriting of mortgage loans or the loans underpinning complex mortgage bonds. The tally for those other mortgage settlements has tapered considerably since reaching a peak in 2011 of almost $16 billion, but they still totaled more than $29 billion over the past five years.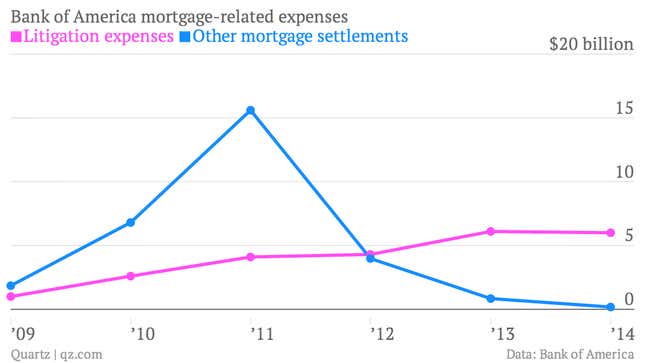 Of course, any BofA settlement will add to its expenses—but at least bank officials could then argue that most of its mortgage headaches are nearing an end.