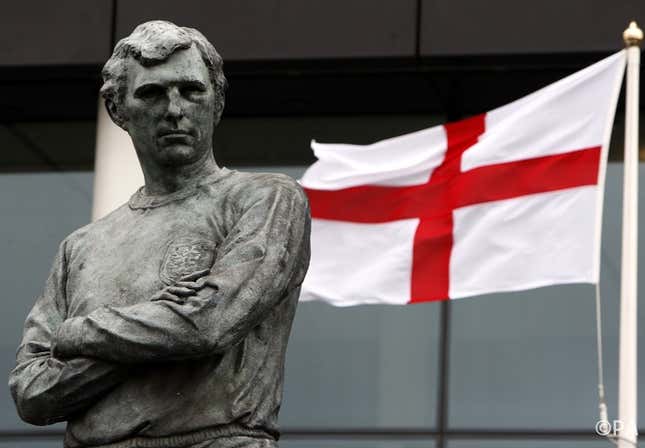 Football clubs around the world have recently been making some highly visible but immobile new signings. Over 350 statues of footballers, managers, chairmen and even fans now stand outside stadiums and amid city precincts and squares, the players variously posed with foot on ball, poised to shoot or save, or triumphantly brandishing a trophy. Almost all have been erected in the past two decades, with the UK leading the way numerically, followed by traditional football nations such as the Netherlands, Germany and Brazil, as well as countries such as China where enthusiasm for the game has not yet translated into success.
Increasingly fans are working together to organise and fundraise for a statue project. The methods may vary—in Argentina, River Plate supporters are collecting bronze in the form of old keys for a statue of Angel Labruna and in Nottingham, Forest fans staged a Brian Clough play to raise money for a statue of their former manager—but a common enthusiasm is displayed. Local authorities, too, are getting in on the act, with monuments to home-town heroes increasingly depicting a sportsman, and particularly a footballer. Ultimately, however, a footballer's statue is still much more likely to have been commissioned by a football club or its commercial partners.
What earns a statue?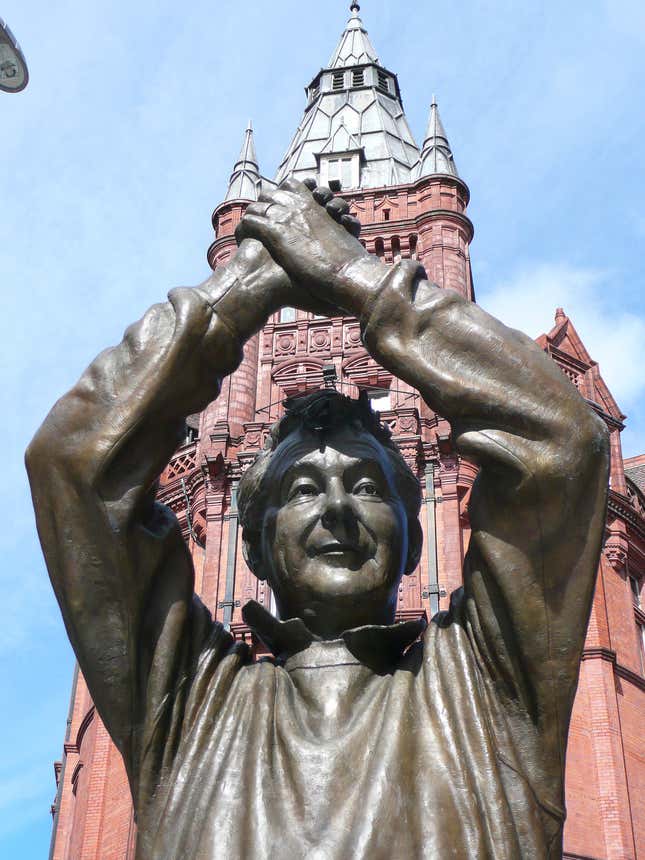 Looking at the predominant characteristics of statue subjects and their locations can tell us a lot about the motives behind their commissioning. There are many great footballers who have yet to be sculpted so this honor isn't simply a reward for being the best player for club or country.
For fans in any footballing nation, the question of which players deserve to be honored by a statue and which don't is an intriguing and never-ending pub argument akin to picking an all-time team. The criteria for being cast in bronze is a matter of opinion, of course: some fans would no doubt point towards great feats of goalscoring, others to the entertainment they provided or loyalty shown to their club. For the casual supporter, an individual's contribution to national success or off-pitch persona may carry more importance.
Loyalty and nostalgia
Players are typically honored around 20 to 30 years after their career has concluded. More often than not the subject is still alive – it is a misconception that statues are bronze obituaries, an exception being in Eastern Europe where cultural tradition and superstition restrict them to the deceased for fear of cursing the subject portrayed. But the experience of Arsenal's Thierry Henry, who on his return to the Emirates for a second spell found himself playing in front of his own statue, is also a rare one. So too are examples of clubs or fans commemorating players whose feats are beyond the living memory of most fans.
From the humble and prosaic, such as Port Vale centre-half Roy Sproson (842 appearances for the Valiants) to bona-fide national heroes such as Peru's Lolo Fernandez (22 years playing at Universitario of Lima), statue recipients are also typified by their loyalty. You earn a statue through service as well as skill.
Together these characteristics suggest that, by erecting these figures, football clubs and fans are looking to evoke or reflect nostalgia. Most obviously this is for a past hero or a great team, but perhaps also for happy moments in supporters' childhoods, and for a time when footballers were located heroes rather than transient celebrities. Nostalgic feelings help to draw fans back to the stadium, and collective memories of "one club" heroes helps to counterbalance the more overt commercial activities that long-term fans especially find jarring.
Creating identity
Around the world, statues tend to be found at new stadiums, in the anywheresville-precincts of new towns, or in urban areas where a prominent industry has disappeared. This characteristic points towards their use in helping create a sense of identity, both cultural and visual, in locations that lack it.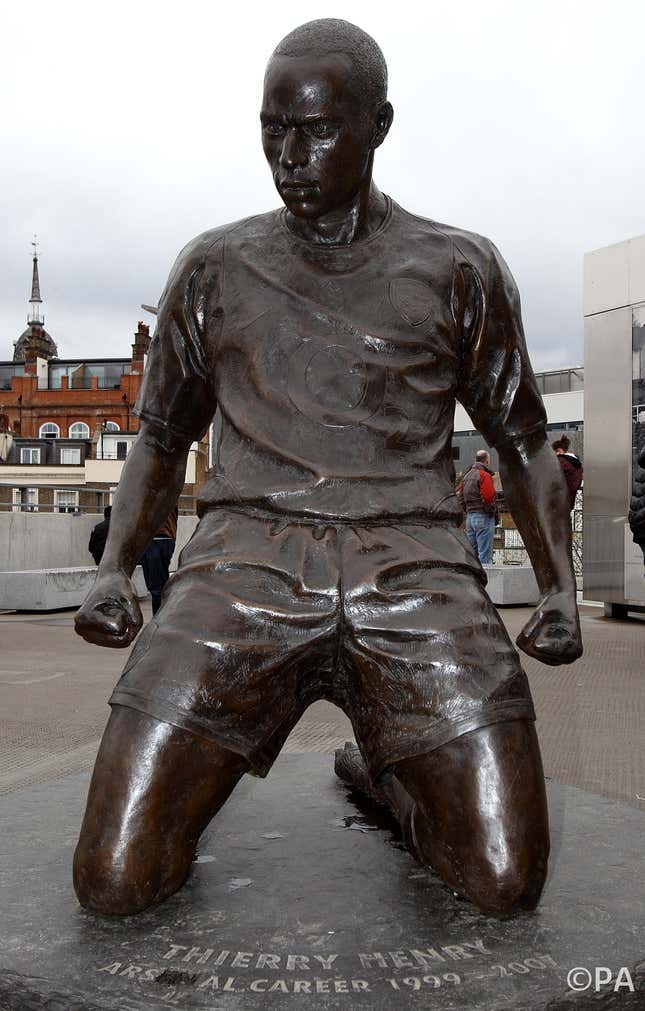 The modern football stadium in particular is a blank canvas, especially when compared to older football grounds that have embedded personal and collective memories of fans in their quirky fabric. A statue is a relatively simple way for clubs and fans to carry some of their history with them to a new home.
Nation versus club
Both club and civic subjects are also often associated with national successes. Eight of West Germany's 1954 "Miracle of Bern" XI have been commemorated and over half of England's 1966 winning team have been depicted at least once. But, apart from Bobby Moore's statue at Wembley Stadium, none of these statues can be considered truly national monuments. Rather, they are examples of the player's club or hometown basking in the reflected glory of their favorite son's achievements.
This lack of national statues can be attributed to the "club over country" attitude of many football fans, and the absence of coherent, committed bodies of national fans who might fundraise or campaign for a monument. Conferring national hero statue status requires consensus across partisan club supporters, and perhaps also wider recognition from non-football-fans, who may prize good character and personal qualities as well as playing achievements.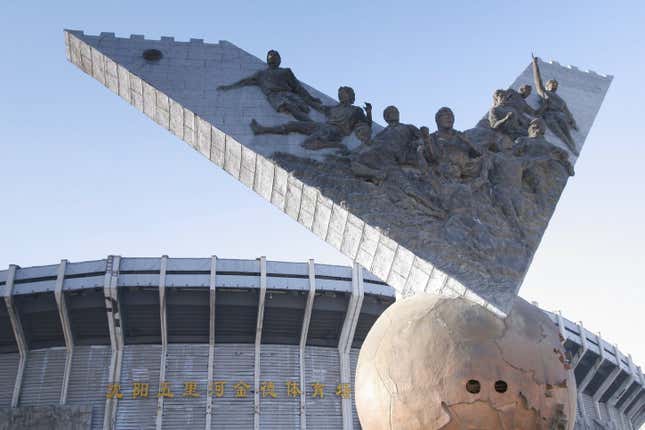 In many countries, the lack of a national stadium also raises the issue of a suitable location for such a statue. Only the Chinese can be said to have completely embraced this genre, with their entire 2002 World Cup qualifying squad cast alongside a giant bronze victory "V" (an overly optimistic piece of iconography given that they subsequently lost all three games in the finals, without scoring even a single goal).
England's disappointing World Cup performance certainly won't lend itself toward any statues being commissioned. Steven Gerrard's service makes him a prime candidate for future memorializing, but the insular nature of club supporters means that an England captain is more likely to be depicted lifting a trophy won by his club than country—should they ever succeed in winning an international tournament. More generally, the enthusiasm for footballer statues shows no sign of abating, with unveilings in Paraguay, Brazil, Germany and Holland within the past few weeks, and more than 30 projects planned worldwide.