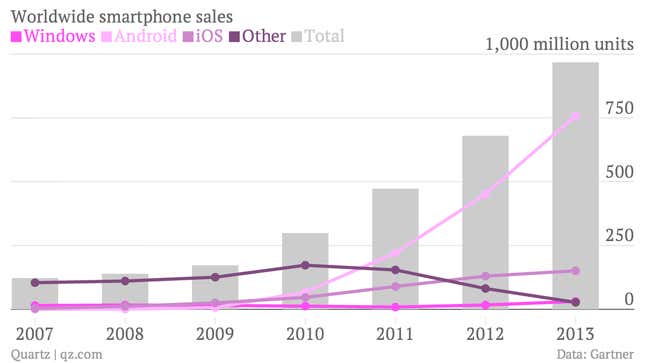 "We live in a mobile-first and cloud-first world," Microsoft CEO Satya Nadella reminded his staff yesterday in a public manifesto outlining the company's new mission.
There's just one problem with that. Microsoft, which absolutely ruled the desktop PC era, has been crushed in mobile. Despite a multi-year head start over Apple and Google in smartphones with a variety of Windows Mobile devices, Windows phones represented just 3% of worldwide smartphone sales last year, according to Gartner. Meanwhile, Android has run away with the market, as measured by active users (see the above chart), while Apple has taken most of the industry's profit.
To be sure, Microsoft phones have had some critical acclaim, sales are rising, and there are some countries where Windows phones actually outsell the iPhone. This list includes Chile, the Czech Republic, Finland, India, Italy, Greece, Hungary, Malaysia, Mexico, Poland, South Africa, Thailand, Ukraine, and Vietnam. But the big picture is that the shift from PC to mobile is arguably the most important shift in computing since the PC itself, and Microsoft is far behind, at least in terms of the relevance of its operating system.
The good news for Microsoft: The company has a way to conquer key parts of the mobile market even if most of the phones aren't running Windows.
Worldwide phone, tablet, and PC sales are set to rise over the next couple of years, according to Gartner, and could pass 2.5 billion units by 2015. Most of those devices will be connected to the internet. Many of the apps they use require cloud-based data processing and storage services. And that is what Microsoft's Azure cloud service (or other, future services) is good at. So if Microsoft can build the best cross-platform cloud services, it could potentially win deals away from monolithic rivals like Apple and Google, or cloud competitors like Amazon and Facebook.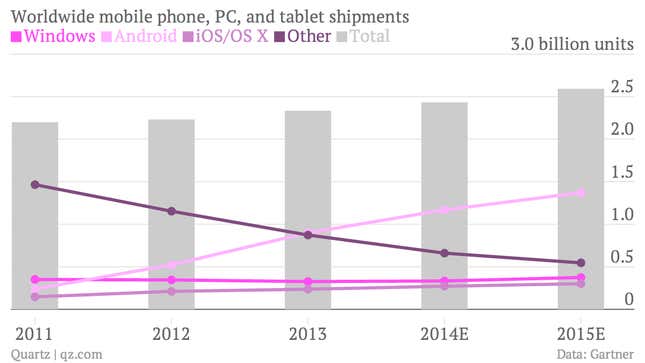 That's a different business proposition than selling handsets, but it's one where Microsoft might actually succeed. "Our cloud OS represents the largest opportunity given we are working from a position of strength," Nadella writes. Azure has already proven itself a platform capable of attracting the largest of customers, including, it's been whispered, Apple. And while Microsoft's overall sales were flat in the first calendar quarter, Azure revenue grew more than 150% year-over-year. Nadella's on the right track.