China's recently published foreign aid report paints a picture of a unabashedly transactional world power, one focused on funneling development aid to nations where it has significant economic interests.
About 52% of the $14.4 billion that China has given in grant aid, loans, and project-building between 2010 and 2012 has gone to Africa, where China buys billions in natural resources. Projects include agricultural centers in Rwanda and teacher-training in Ethiopia, as well as 86 infrastructure projects, China's report says.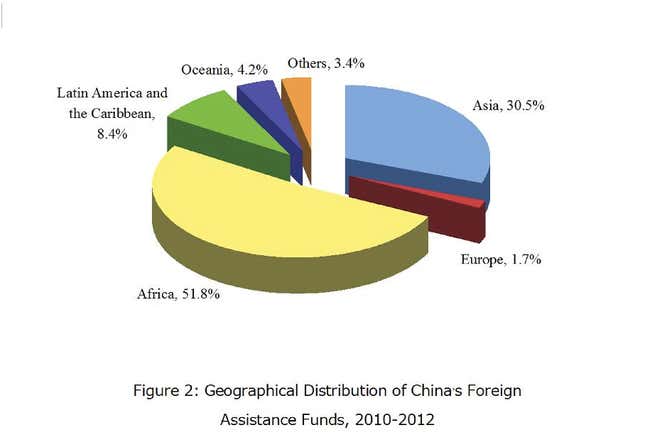 The US, in contrast, gave just over $48 billion in foreign aid, including military and humanitarian aid, in 2012 alone. During the 2010-2012 span, the US has donated a considerable amount to sub-Saharan Africa as well, but aid has also been heavily concentrated in Afghanistan, Pakistan, Iraq, all of which receive more than $1 billion in aid each year, as well as Israel, the US's largest foreign cumulative aid recipient since WWII. Here's a snapshot from 2011 from the US government: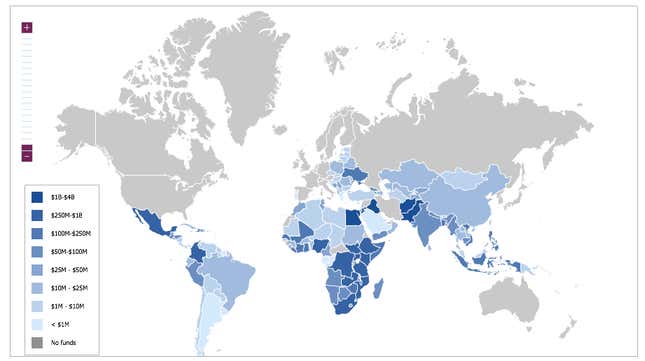 About 45% of the foreign aid coming from China is in the form of help building projects to improve countries' "economic infrastructure," including bridges, roads and ports that ultimately will help China and other nations looking to trade with these countries: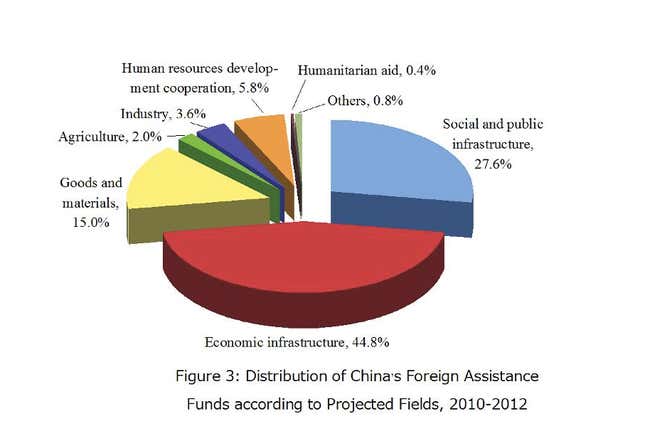 The US, on the other hand, has given more aid to "health," "humanitarian assistance" and "peace and security" during those years than anything else. Here's a snapshot of the US's foreign assistance spending from 2012:

Lastly, in the three years covered by the report, China devoted just 0.4% of its foreign aid to humanitarian causes like emergency relief and cash for countries suffering natural disasters. That's 1.2 billion yuan, or $193 million. World governments in that time doled out $40.5 billion in humanitarian aid, led by the US,  according to Global Humanitarian Assistance. That means China, the world's second-largest economy, contributed less than half of one percent of the total.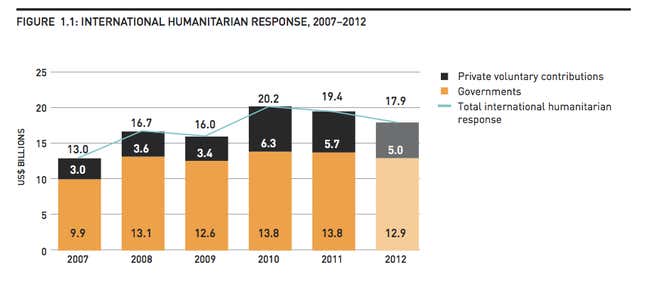 For a good idea of what that looks like, China's humanitarian aid contribution for 2012, compared to the rest of the world, puts it almost last among the world's top 30 donors, just above Portugal: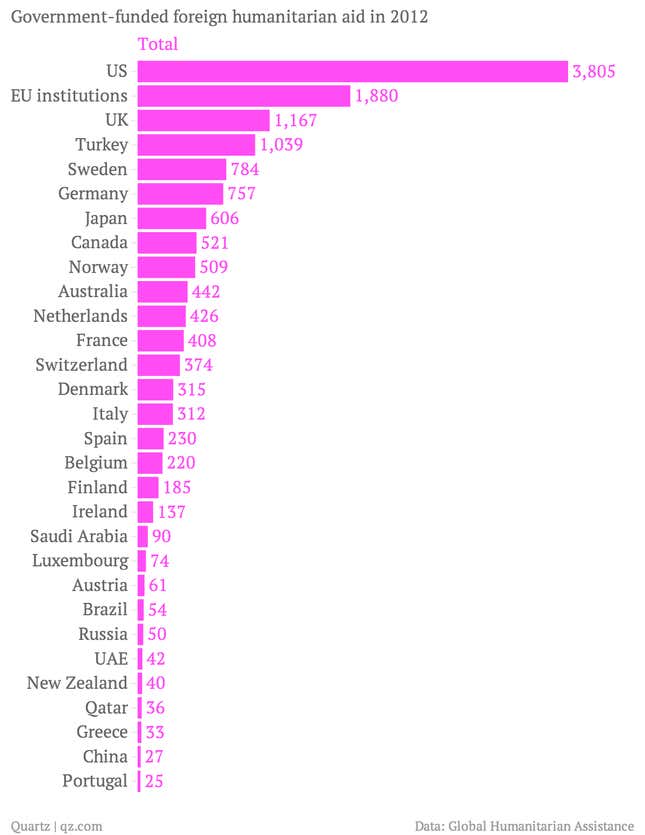 China's failure to commit serious humanitarian aid to neighbor and sometimes South Sea territory rival the Philippines after the devastating Typhoon Haiyan earned the Beijing derision abroad and even mild rebukes at home.
But that's not the kind of donor that China wants to be. The recently published aid report aptly illustrates how the country is exporting the "Chinese dream," explains a columnist in the state-run news wire Xinhua. "The Chinese model of providing foreign aid adheres to the principles of not imposing any political conditions, not interfering in the internal affairs of the recipient countries and fully respecting their right to independently choose their own paths and models of development."
By contrast, the US Agency for International Development, which disburses US foreign aid, has a mission to pursue "two complementary and intrinsically linked goals: ending extreme poverty and promoting the development of resilient, democratic societies that are able to realize their potential."