A global milk glut is on the horizon, analysts are warning. Ramped up production from dairy exporters around the world will far outpace demand, even from China, which is now the world's largest dairy buyer.
Goldman Sachs estimates that global output of raw milk will outstrip production by 2 million tons (1.8 million tonnes, or 2 billion liters) a year for the next five years, enough to fill 800 Olympic swimming pools. Raw milk production should grow 2.6% a year for the next half a decade, compared to demand growth of only 2%, it said in a report last month.
That's because although demand from emerging milk-guzzling nations like China has surged, it has dropped off or remained flat elsewhere. China is expected to consume about 51 kg/per capita a year, almost double the rate in 2011, though still low compared to the rest of the world. The world average as of 2012 is about 108 kg/per capita a year (pdf. p.4) Here's how China's milk consumption, about 40.1 million tons last year, compares to those of the United States, Japan, and South Korea.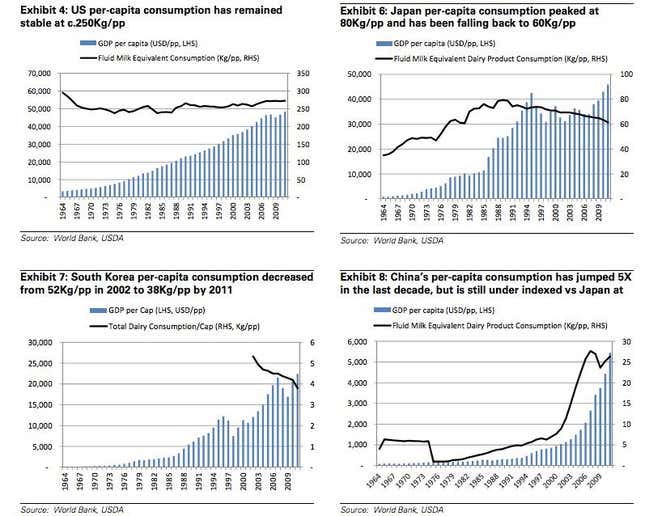 Moreover, the world's largest dairy exporter, New Zealand milk giant Fonterra, is ramping up production to an all-time high, according to government officials, after surging milk prices last year gave the company funds to invest in more cows and in nutritional supplements that make them produce more milk.
As in New Zealand, the dairy sector in most developed countries has shifted towards bigger herds and much higher yields per cow over the last 50 years. Between 1982 and 2012, global milk production increased by more than 50% from 482 million to 754 million tons, according to the UN Food and Agriculture Organization.