Duck diligently under the stall, glance through the gap, or try the door and hope for the best. These are the common ways we figure out whether a bathroom stall is occupied or not.
According to one LA-based startup, however, there's a much more efficient (and elegant) solution.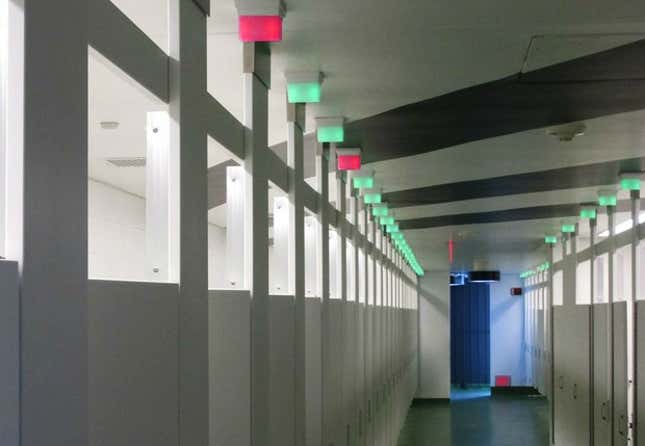 For the past year,  Allen Klevens and Todd Bermann have been developing Tooshlights, an LED light system that easily identifies open and occupied stalls in large restrooms.
The LED lights—similar to those installed to gauge space availability in many parking garages—are connected to "Tooshlatches." These are door latches that, once locked, turn the light above the stall from green to red. The team had tried a range of options for detecting stall occupancy, including motion sensors and heat sensors. But, according to Klevens, the latch was the only foolproof method during the trial stages.
Streamlined restroom traffic and shortened wait times would be valuable to eventgoers who can't afford to wait too long during intermissions. Fittingly, Tooshlights' first client is the Hollywood Bowl, a 17,000-seat concert venue in LA where bathroom lines regularly stretch out the door even though some middle stalls are actually vacant.
The venue recently welcomed guests with the new Tooshlights technology installed in one of the women's bathrooms. Early feedback has been positive: A Hollywood Bowl spokesperson confirmed to Forbes that wait times have indeed decreased.
In a phone interview, Klevens says that the next venues to debut Tooshlights will be generally sports and entertainment facilities. The startup, however, has its sights set on on virtually all large venues—anything from movie theaters, malls, and airports to convention centers, theme parks, and schools.
Potential Tooshlight domination does raise a few concerns. As with any design idea that employs a red/green scheme, it might not be the best design for colorblind folks. But if the Tooshlights are anything like their parking-garage counterparts, there will be workarounds. The red/green LEDs installed in the parking garage of the Dallas/Fort Worth International Airport, for example, also communicate space availability through a difference in the brightness of the lights. (The LED light over an occupied space shines at 30% while one over an open space shines at 90%.)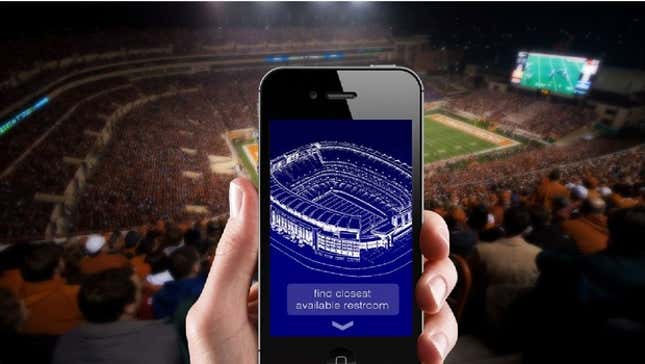 And then there's the price tag. Tooshlights installation starts at $300 per stall, and goes up to $800 per stall with customization. (The lights can sport team logos, for example.) Tooshlights will also offer clients the option to subscribe to useful data gathered by the system—which stalls are being used the most and when, which stalls are consistently open (a tip-off that maintenance may be needed).
Klevens is confident that Tooshlights are solving a real problem. It's a matter of "Do you want them, or do you not?," he says. "We don't have to sell anybody."
All images courtesy of Tooshlights. 
This post originally appeared at CityLab. More from our sister site:
The world's biggest cities will be in Asia and Africa by 2030
Strange as it seems, cycling haters are a sign of cycling success
Car insurance companies want to track your every move—and you're going to let them