New York Harbor, the body of water around the southern tip of Manhattan, has reopened to normal ship traffic as the region attempts to ease a crippling fuel shortage caused by Hurricane Sandy. Ships have started their way in, and there ought to be more as the federal government has temporarily waived a law requiring that all fuel moved between US ports travel on US-made ships manned mostly by Americans. "There should be a real change in position, and people should see it quickly," New York Governor Andrew Cuomo said this morning.
In the animated GIF above, which we constructed from shipfinder.co's display of global shipping traffic, you can see two oil tankers make their way into the harbor shortly after it reopened last night. The GIF spans from 6 p.m. to 8:30 p.m. on Nov. 1. Both tankers remain anchored in the middle of the harbor and, based on available data and Cuomo's comments today, are likely being unloaded right now.
The arrival of these tankers is both vitally important to the northeastern United States and, in the scheme of worldwide oil shipping, extraordinarily mundane. The bigger question by far is when will electricity be back up so that existing fuel supplies can be pumped into cars. But it's a good opportunity to examine a small slice of these global supply routes.
Looking at the GIF again, that first ship to arrive in the harbor around 6 p.m. is the Glory Express, a 182-meter-long tanker carrying oil products—we don't know if it's diesel, gasoline, or something else—from Riga, Latvia. Here's a photo from MarineTraffic.com, a sort of Wikipedia for shipping: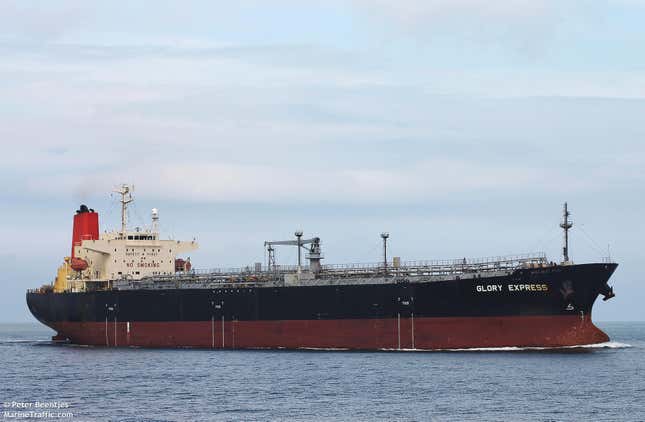 The Glory Express makes its way through the Narrows, a tidal strait between Brooklyn (on the right) and Staten Island (on the left), and anchors in Upper New York Bay.
As that's happening, another oil tanker emerges in the harbor: Maersk Misumi, which came from Ijmuiden, the Netherlands. (Its operator is Danish, but the Maersk Misumi is owned by a Singaporean firm.) It's a slightly newer ship—built in 2008, two years after the Glory Express—but otherwise quite similar in size and weight. Here she is: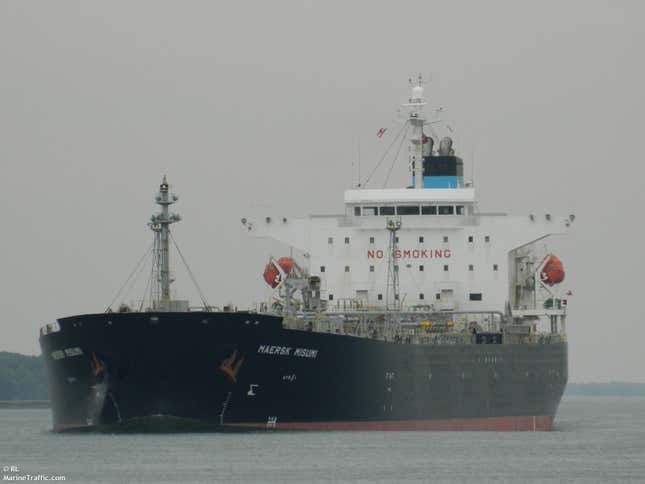 The Maersk Misumi follows the same path through the inlet and anchors in the harbor, as well. In his press conference with the US Coast Guard, Cuomo said that damage from the storm was preventing many ships from docking, though it's unclear whether the Glory Express and Maersk Misumi anchored off the coast for that reason. Attempts to reach the boats on their satellite phones were unsuccessful.
You can track these ships—and lots of other marine traffic—yourself with the fabulous and oddly spellbinding shipfinder.co. Here are direct links to track the Glory Express and Maersk Misumi.