A celebrity Chinese television broadcaster has become the latest casualty in China's ongoing corruption crackdown. Rui Chenggang, a charismatic 36-year-old CCTV journalist, was detained by officials, according to state media, just an hour before he was due to host his popular financial news show on July 11. The show went on with Rui's cohost sitting next to an empty chair.
The reasons for Rui's detention aren't clear but local media suggest he may be under investigation for his connection to a public relations firm called Pegasus, now owned by Edelman, which has business ties with CCTV. Public records show that an individual named Rui Chenggang co-founded Pegasus and held a stake in the company while it won a series of contracts from CCTV.
A journalist at CCTV told the New York Times that the network had been ordered to remove content related to Rui and to stop advertising for his show. Chinese media also received a directive not to put stories about Rui on the homepage of their websites. CCTV's vice director of financial news, Li Yong, was also taken away on Friday, and Guo Zhenxi, president of CCTV's financial news channel, was detained in June for allegedly taking bribes.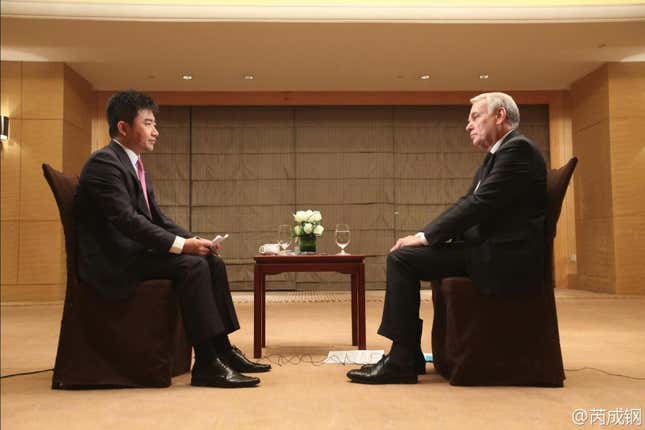 What sets Rui apart as a journalist—and from the largely anonymous colleagues who have also been detained—is that he is an icon to much of the Chinese public. Bright, internationally educated and still deeply nationalistic—he successfully campaigned to have Starbucks removed from the Forbidden City and replaced with a Chinese chain—Rui embodied what some observers have called "new China." (He's also known for wearing Zegna suits and driving a Jaguar to work.)
He once asked Gary Locke, then the US ambassador to China, at a World Economic Forum event: "I hear you flew here coach. Is that a reminder that U.S. owes China money?"
Since his abrupt departure, Rui's fans have taken to his Weibo page to post their support: "I don't care. [Rui] is the only idol I've ever had. I believe in him no matter what," one wrote. He has over 10 million followers on his Weibo blog, where he posts photos of himself hobnobbing with world's leaders and business executives—he's fluent in English. At universities, he has been greeted by crowds of screaming students, clamoring to get his autograph.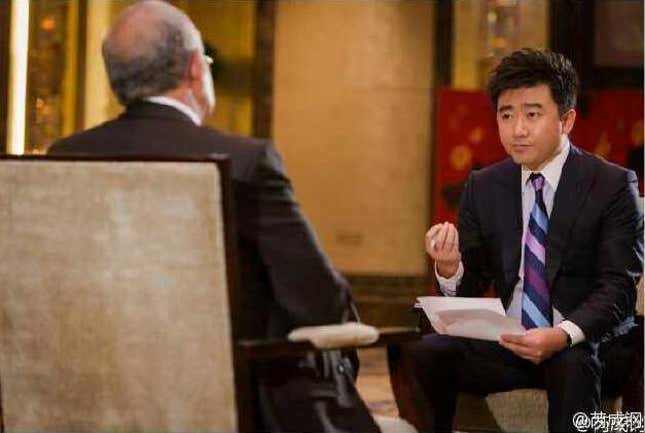 Rui is most famous for his boldness. He jumped in on US president Barack Obama's request for questions from the Korean press in 2010, saying, "I'm actually Chinese, but I think I get to represent the entire[ty of] Asia."
That boldness, and Rui's status as a symbol to the country's youth may have contributed to his recent troubles. Answering a student's question on how to become more "international," he said in 2012, "Think for yourself. Ask questions. Read widely."