With its government debt at 172% of its GDP, Greece's economy is far from recovered from its debt crisis. Its unemployment rate still lingers above 27%, as it has since March of 2013. And while it has seen an improvement from last year's negative account balance and the central bank has high hopes to exit the recession this year, the country's current balance is just under 1% of its GDP.
But one area continues to see some upward mobility. Greece's cultural relics, especially the Acropolis of Athens and its other archaeological sites, have maintained a steady flow of visitors for the past few years. In fact, visits to these sites have risen even as the economy has languished, according to data collected from Hellenic Statistical Authority, EL.STAT.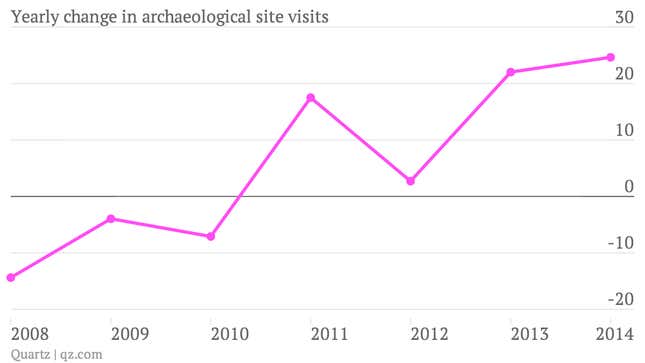 Ironically a representation of Ancient Greece's power, wealth, and cultural supremacy, the Acropolis is a must-see for tourists and the numbers certainly reflect its popularity. It has had an average of a million visitors per year over the last decade, and it's the single most-visited archaeological site in Greece, with the Minoan palace Knossos coming in at second place.
With tourism making up one sixth of Greece's economy, Greece owes a lot to the Acropolis. The country is expected to attract 18.5 million tourists this year, 0.6 million more than in 2013, said Andreas Andreadis, president of the Association of Greek Tourism Enterprise.