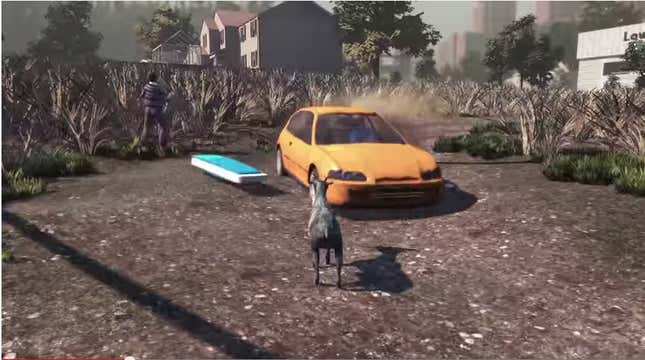 "You no longer have to fantasize about being a goat," reads the description for the viral trailer for Goat Simulator, a PC game produced by the Swedish game developers Coffee Stain Studios. "Your dreams have finally come true!"
The Internet loved the video—thrown together as a joke during a fast-paced "game jam" development cycle—and demanded that Goat Simulator become a reality. In April 2014, it was released after just 10 weeks of development (a typical Coffee Stain Studios game takes one to two years) and two months later the $9.99 game had outsold all of the company's other games combined. Coffee Stain has not released official sales data, but the game ranked in the top 10 for three weeks and consistently sits in the top 100 on the game distribution platform Steam's sales charts. (An ongoing sale propelled Goat Simulator back up to the number six spot this week.)
"I spent a lot of my office hours watching funny goat videos on YouTube," says developer Armin Ibrisagic of his eureka moment. "I figured, 'Damn, we should make a game out of doing stupid stuff as a goat,' and we did."
Goat Simulator and its quirky cohorts, like 2013's Surgeon Simulator from Bossa Studios and the upcoming Bear Simulator from Farjay Studios, are part of a wave of slightly absurdist games that are shaking up the old and somewhat stodgy genre of simulations, long anchored by titles such as Maxim's The Sims and SimCity.
It's no secret that online interest can supercharge idiosyncratic projects—just ask Zack Brown, whose Kickstarter campaign to make a batch of potato salad raised thousands of dollars. But what's interesting is how financially successful the trend has been, particularly for small, agile development teams like the two-person company responsible for Bear Simulator, which raised over $100,000 in a recent Kickstarter campaign—more than three times the initial goal.
Part of the charm of the games is in their grungy nature. Gameplay is laden with bugs that developers leave for players' amusement. Still, not everyone is on board with the joke: Rich Stanton wrote in The Guardian that Goat Simulator is "a 10-minute laugh, if that—the kind of thing that's here today, gone tomorrow."
Where will it all end? Probably with the genre consuming itself: An ongoing Kickstarter campaign for Rock Simulator has already raised over $1,000 on its modest $500 goal, and game journalist Jason Evangelho has recently announced his plans to release—wait for it—Game Journalism Simulator.