South Koreans are worried about North Korea, Bangladeshis are wary about India, and Indians sees Pakistan as its biggest threat. China and Japan are united only in their distrust for each other. And Indonesia is conflicted—it sees the United States as both its main ally and its biggest threat. This tangled web of trust and mistrust is mapped out in the Pew Research Center's new "Balance of Power" survey, which shows that Asia is home to some of the world's most fluid and confusing alliances and rivalries.
Regional allegiances are changing even more quickly now, with China's rising economic and military power, America's so-called pivot back to Asia, and new governments taking power in the last few years. Here are a few takeaways from Pew's results, culled from 48,000 interviews conducted in 44 countries between March and June this year. (Note: North Korea was not among them.)
The US is Asia's most popular ally
The idea that a pro-US and a pro-China camp are both being built up in the region appears to have some traction based on Pew's research. Two countries that named China as their chief ally also named the US as their main regional threat—as did China itself. Meanwhile, three states that said the US was their primary partner saw China as their nation's main regional threat.
A majority of respondents in eight Asian countries cited the United States as their chief ally, compared to just two (Pakistan and Malaysia) that named China as theirs. China, meanwhile, sees Russia as its biggest ally, despite a long history of tensions between the two countries.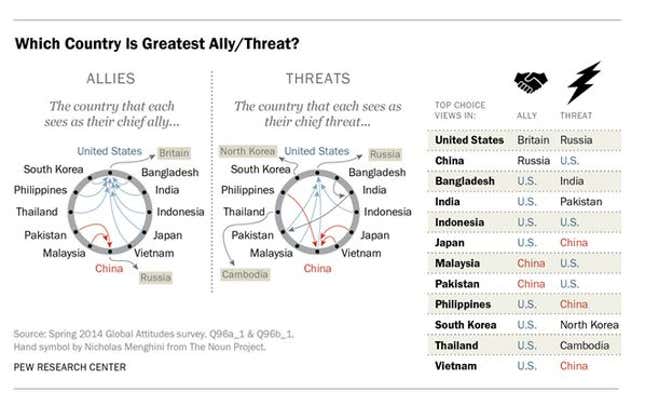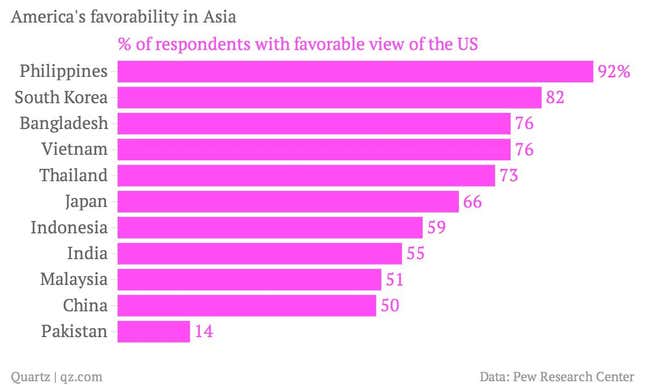 Japan is more popular than China
More than half of respondents in seven Asian countries polled held a favorable view of Japan, whose World War II occupations throughout the region still cause diplomatic friction with the Koreas and China. In contrast, majorities in only six countries held favorable views of China. China's proclamations of a "peaceful rise" have been contradicted by its hardline stance over territorial disputes with its neighbors in the South China Sea. When it comes to Japan and China, the mutual mistrust is apparent: only 7% of Japanese said they had a positive view of China and only 8% of Chinese held a similar view towards Japan.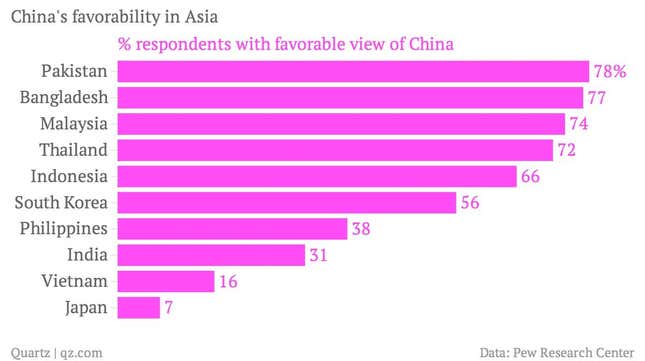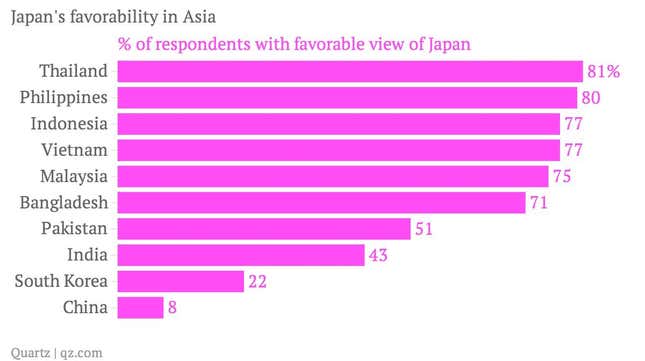 India is more popular than Pakistan
According to Pew, no country other than Indonesia responded with a favorable view of Pakistan. In China, the country that 57% of Pakistani respondents named as their top ally, only 30% held a favorable view of Islamabad. Views of India range widely, from 70% favorability in Bangladesh to 13% in Pakistan.