Being a cool-kid brand that relies on the sympathies of jaded, snarky American teenagers can be a tough slog, especially when the brand's cachet relies on culturally insensitive designs.
Urban Outfitters's latest faux pas is a case-in-point: it had to pull a duvet cover featuring Lord Ganesh, the Hindu deity with the head of an elephant, from its website and issue an apology after some vocal Hindu activists protested the use of the image on a bedspread. It isn't the first time Urban Outfitters's designs have caused a ruckus among Hindus, not to mention people of other cultures.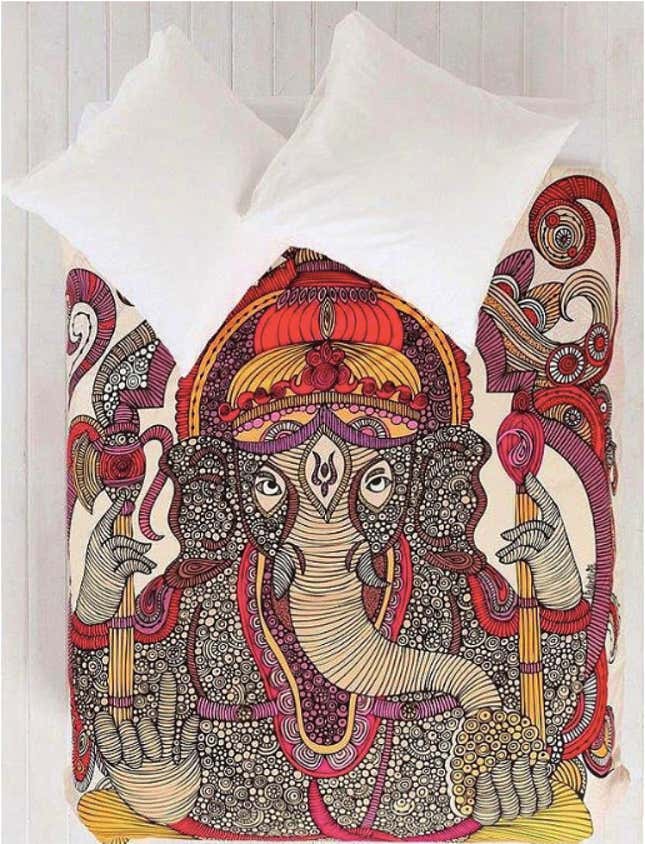 The store, which has plastered Lord Ganesh over countless items including sweatshirts, tapestries and t-shirts, said it will continue to sell other Ganesh paraphernalia. Ganesh, after all, has become something of a light post for starry-eyed young admirers of Eastern religion.
So what's different about a duvet cover? The problem has to do with placement, according to Rajan Zed of the US-based Universal Society of Hinduism. While wall art is an appropriate medium for displaying images of Ganesh, things like bed covers and socks—which put the highly revered religious figure in contact with one's feet—are not, Zed explained after the company pulled its $8-a-pair Ganesh socks last year. Granted, there are oodles of bedspreads on the market with Ganesh on them, and Urban Outfitters is an easy target for overzealous activists.
But that the company responded so quickly to outcry reflects unease about its target customer. Of all the groups the company has offended over the years—Jews, women, the Irish, Christians—alienating the Hindu community is arguably a dumber move. Urban Outfitters—which also owns the retailers Anthropologie and Free People—has been struggling with declining sales at its flagship chain.
Aiming for the slightly more sophisticated clientele that is boosting its other brands—a solution Urban Outfitters executives have proposed—might help revive sales among American college kids. But if the company wants to realize its dreams of global expansion, it will have to mind its image abroad, particularly in Asia, where the retail sector is exploding and consumers who can afford its wares may be slightly older and less comfortable with mocking religions in public.
The world's teens may be universally restless and hormonal, but not all of them get a kick out of Jesus (or deity) jokes.