The numbers: Generally soft. Yahoo reported $1.08 billion in second quarter revenue, representing a 4.5% year-over-year sales decline. Revenue after traffic acquisition costs declined to $1.04 billion, just short of analyst expectations. Adjusted EBITDA was $340 million, slightly ahead of expectations. Yahoo also reached a new agreement with Alibaba that will permit it to sell fewer shares in Alibaba's IPO.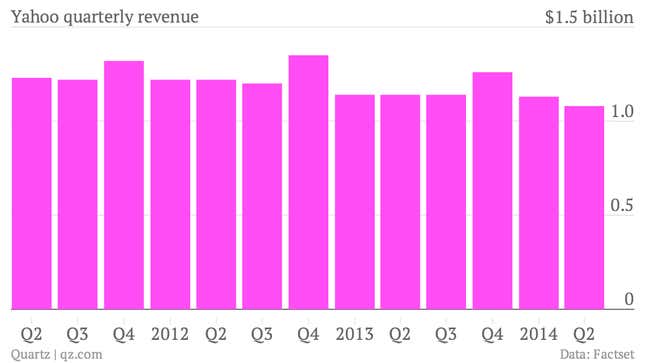 The takeaway: Growth is the big outstanding question for Yahoo, and it's not happening. CEO Marissa Mayer even admitted as much in her canned quote in the company's earnings release: "Our top priority is revenue growth and by that measure, we are not satisfied with our Q2 results." Display advertising revenue—banner ads, about 40% of Yahoo's business—declined 7% year-over-year. One big reason: cheaper ads. Yahoo says the number of ads it sold increased 24% year-over-year, but its price-per-ad declined 24%.
What's interesting: Now two years into Mayer's reign, Yahoo needs something to sound excited about, so it's nominating its search business. Search revenue actually increased—up 6% year-over-year, excluding traffic acquisition costs. And the number of clicks by Yahoo users on search ads grew again in the second quarter, though at a slower rate than it did last year.
While search represents about 40% of Yahoo's revenue, Macquarie Research analyst Ben Schachter estimates that search accounts for more than 75% of its core EBITDA. The problem: Search seems like a dead-end business for Yahoo, which has lost much of its US search share over the past few years—now representing just 10% of the market, according to comScore. "We still struggle to understand the reason for Yahoo search to exist in a world where browsers are the search bar and as voice activated search takes more share," Schachter writes in a research note published today.